I Just Found a $16 Solution to Your Annoying 'Clothes Chair' Problem
We
independently
select these products—if you buy from one of our links, we may earn a commission. All prices were accurate at the time of publishing.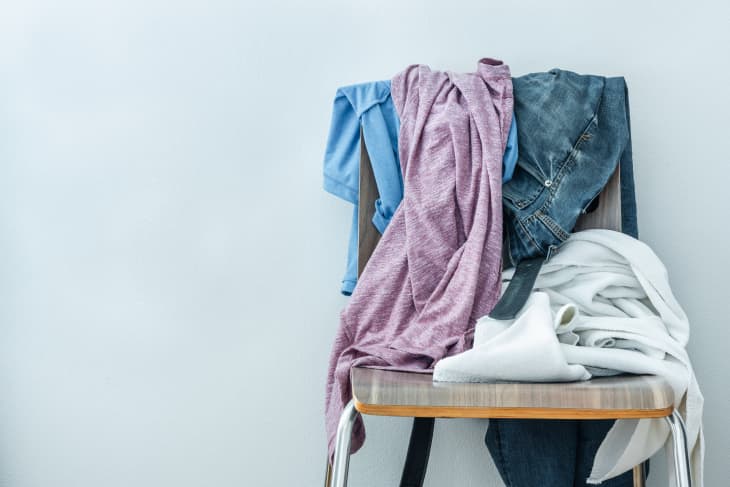 If you wear clothes and do laundry (ahem, that's all everyone) then you are no doubt aware of a seldom-discussed but ubiquitous laundry conundrum: What to do with the clothes that are too clean to be washed yet, but too dirty to be placed back in the closet or dresser drawers with other clean clothes? An accordion rack actually solves the problem of how to store clothes that can be worn again and keep them top of mind. But before I delve into that, let me share something.
For me, I may re-hang a dress I've worn for an hour or two a couple times, and I regularly wear my coats and sweaters multiple times before considering washing them, putting them back in the closet on their hangers between uses. Plus, considering that the average American family washes about 300 loads of laundry per year, wearing your not-so-dirty clothes as much as possible until they have to be washed is a great way to not only prolong the life of your clothes, but to be use a little less water and energy around the house.
Now, underwear, obviously, gets tossed in the laundry hamper after one wear, as well as anything I sweat in or get visibly dirty. But for some blouses, pants, and even t-shirts, the issue often becomes more murky — folding them and putting them back in drawers seems unsanitary. I know that, more often than not, I can wear them again, no problem, as long as they stay in my line of sight. I need a way to store them that's neither the hamper nor their more permanent home, a kind of clothing purgatory where they can "breathe" and I can see them and reach for them to wear a time or two more. 
Enter the "clothes chair," not to be confused with the pillow bench, where in-between clothes like these go to languish until they're dirty or dusty or wrinkled enough to finally be washed. When the clothing chair — admit it, you currently have or have had one — starts to overflow, sometimes this clothing gets stashed on the floor of the closet, but that also looks messy. Not to mention, it's not very appealing to wear clothes that have been plucked up from the floor and the chance that you'll remember what's on the bottom of the pile to wear again is slim.
Solving the "Clothes Chair" Problem
There has to be a solution to this problem, I thought — then one day, I found one. An accordion rack, like this stylish $16 option from Target, actually solves the problem of how to store clothes that can be worn again and keep them top of mind. I hang it over our laundry hamper and use the hooks to hang garments like my pajamas or a t-shirt and pants I can wear again. Having each item not only off the floor or the chair, but also visible and within reach, really helps me remember to wear them again, rather than just leave them thrown buried in pile until I just end up adding them to the next wash anyway. 
This solve is my new personal favorite because there's nothing better than an easy and affordable solution to a common household problem. Thank you, accordion rack!