The Folding Lady Shows You How to Fold Everything, from Bedding to Baby Clothes
We
independently
select these products—if you buy from one of our links, we may earn a commission. All prices were accurate at the time of publishing.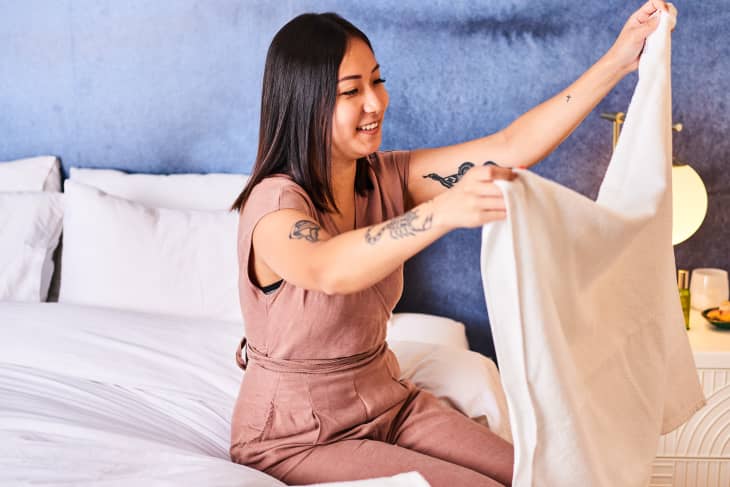 If it's help with folding everything from bedding to baby clothes you're after, The Folding Lady's social media feeds will serve as your one-stop shop to show you how to keep everything in your world neat, tidy, and wrinkle-free.
Just as her moniker suggests, Sophie Liard is social media's newest sensation, going by The Folding Lady on both TikTok and Instagram. And with close to 2.5 million followers on TikTok and more than 370,000 on Instagram, her easy-to-follow short clips showing off her folding skills have captivated those of us looking for a little assistance (along, maybe, with a few brief moments of relaxation and concentration) in our own household tasks.
Whether it's a towel you need help with (Liard's pro tip is to fold it in half, width-wise, leaving a gap so the ends aren't actually meeting, and then rolling the folded towel, which leaves everything smooth and free of creases) or your sweaters and jeans, which also store neatly in drawers, on shelves, and in suitcases when folded and rolled, you'll never again wonder how you can maximize storage space and keep everything looking and feeling organized.
Liard also gives other useful tips, such as help with organizing a cupboard (cabinet shelving will be your new best friend for easily visible cans and bottles), as well as how to store bulky winter coats so they're out of sight, out of mind once the spring weather finally arrives.
If you've ever wondered how to make something look like it's on display at a store, The Folding Lady's feeds have probably got you covered.