6 Renovation Mistakes From "The Money Pit" That Homeowners Can Learn From
We
independently
select these products—if you buy from one of our links, we may earn a commission. All prices were accurate at the time of publishing.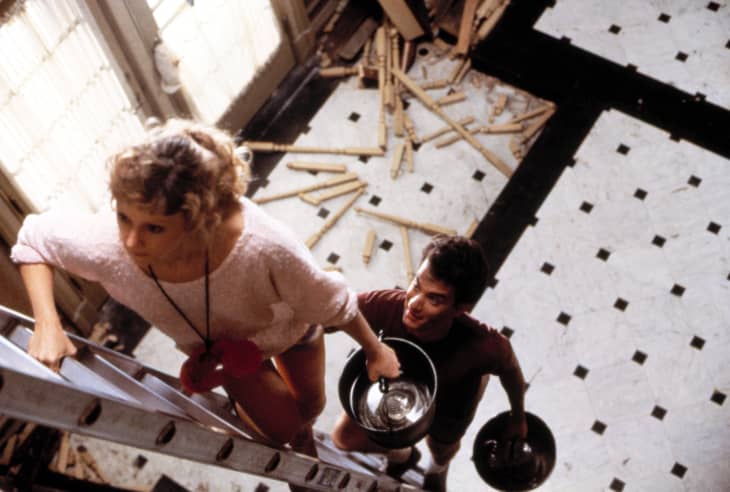 When excited couple Walter and Anna (played by an impossibly young Tom Hanks and Shelly Long) stumble on their too-good-to-be-true dream home, they quickly discover how the realities of homeownership can turn into a nightmare.

While unexpected issues and emergency repairs can always pop up, there are a few mistakes in "The Money Pit" that can serve as lessons (read: warnings) for future and current homeowners. With help from the pros at Power Home Remodeling, here are the reno disasters from the film and the best way you can avoid them.
Never skip the home inspection
Inspections won't uncover every possible problem in your home, but they can sure identify some major ones that you may miss otherwise. Walter and Anna would've probably given just about anything to go back in time and spring for that inspection after they discovered how much work they were in for. "Find a reputable, credentialed professional to conduct the inspection; this can save you some serious money down the line," explains Michael DiMartino, Senior Vice President of Installations at Power Home Remodeling.
Beware of roofing red flags
Nobody wants to be in Walter's shoes when he discovers that the roof of his new home leaks during his very first thunderstorm as a homeowner. This is exactly why Eamon Lynch, Director of Warranty Service at Power Home Remodeling, suggests being extra alert when it comes to compromised roofing. "Not only is it an expensive replacement, but it can allude to how the rest of the home was maintained," Lynch says.
While you might be in a hurry to get started on a home improvement or renovation, you should never fork over any cash before you have a signed agreement in place, which is why you should avoid contractors who request payment before you've officially crossed your t's and dotted your i's. 
"When looking for a contractor, make sure they have all the necessary experience, credentials, permist, and license to do the job," DiMartino explains. "It's equally important to check references and reviews — that's where you'll find first-hand insights from homeowners that can attest to the quality of work." 
Set realistic time frames
Every time Walter asked the contractors how much time would be needed to complete the requested repairs on his home, he always got the same answer: two weeks. "Setting a realistic time frame can be challenging, but take the extra time to fully understand the projects and steps required," Lynch says. "Make sure you have a clear picture of not only when the project is expected to start, but also when the project is expected to be complete." 
In today's world, Pinterest and charming renovation teams might be to blame for giving homeowners too much confidence when it comes to tackling projects on their own. But for Walter and Anna, their DIY inspo was born of desperation — but as they learn, DIYs don't always mean less costly. "While the idea of a DIY project feels like an easy way to save money, many DIY projects end up costing more time and money if you don't have the proper knowledge," DiMartino says.
Few things are as humbling as having to ask for financial help when you've over extended yourself, like when Walter goes to Benny about his fiscal shortcomings. Lynch says it's easy for anyone to go over budget when working on home renovations, which is why they suggest categorizing renovation materials by quality and price point and anticipating changes to stay on track.