3 Things You Should Never Put on Your Desk, According to Home Stagers
We
independently
select these products—if you buy from one of our links, we may earn a commission. All prices were accurate at the time of publishing.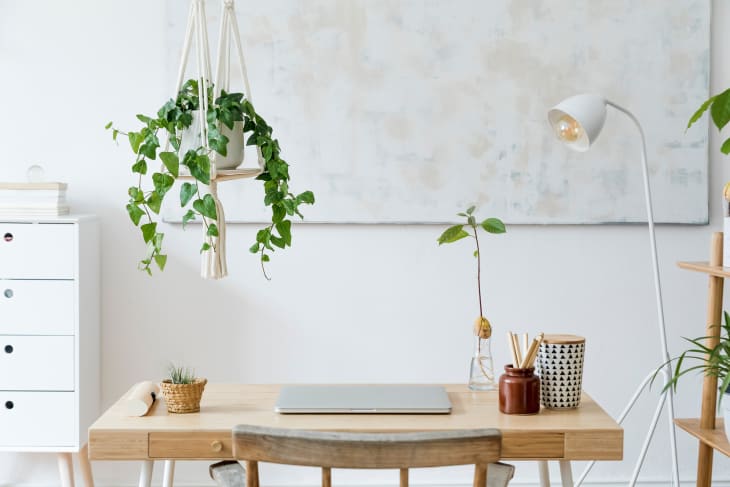 Now that the real estate market is scalding hot, maybe you're working on putting your home on the market. (Speaking of work, hopefully, you're able to work from home right in your newly decluttered office in the light cast by a luxe portable lamp.) While you shouldn't feel bound to "never do this"-type design rules in your own home — it's your space after all — design pros are a helpful resource when you're staging in the hopes to sell.
For tips to entice buyers to picture your home office as their future hub of productivity, we turned to home stagers Emily Morris of Green Door Home Staging in Urbandale, Iowa, and Melisha Abeysena of Staging by Mel in greater Toronto. Here are the things they say that shouldn't take up space on your desk.
At a time when the lines of "home" and "office" have blurred, it's easy for our workspaces to look a little disheveled. "We get it, everyone's working from home now and this is often accompanied by several monitors, printers, and the accouterment," Morris says, who has run Green Door Home Staging with her mother, Luise Morris, since June 2014. "But, nothing looks messier, more cluttered, and not to mention outdated, than a tangle of cords draped over the edge of your desk."
Morris explains this is an easy fix. "All it takes is unplugging the cords and extra monitors, and stowing them for photos and showings too, if able," she says. "Or if you're interested in upgrading your space for the long run: wireless electronics!"
Abeysena agrees. "Desks should be free of bulky computers and any exposed wires," she says. "Although it may not seem like the most practical desktop setup, during the staging process the focus is on the optimization of space and visual appeal. The less items that are crowding your desk, the more spacious it will appear."
Abeysena, who's brought her bright and modern aesthetic and home styling skills to the greater Toronto area for about two years, has a reminder about the home selling process: Staging is less about you than you think, which includes your desk.   
"The key to staging is depersonalizing by removing all personal photos and sentimental items," she says. "This allows a potential buyer to better visualize themselves in what could be their future home. If the buyer can envision themselves living in the space, you have already increased your odds of getting an offer."  
Morris recommends axing everything personal on your desk from diplomas to personal photos, and (especially) yesterday's coffee cup that you likely forgot about. "These are all items that make buyers think about you and how you lived in this space. By removing anything that identifies you or your habits, buyers can focus on the space itself and themselves." Plus, without all that personal clutter you might have room for a few smart desk upgrades on the cheap.
A cup that's overflowing with pens
This one's a simple trick with big psychological impact: Ditch that messy cup of mismatched writing instruments.
 "A cup or vessel that's overflowing with pens, pencils, and markers is not a good look," Morris says. "An office space should feel peaceful and productive, not cluttered, stressed, or abandoned. The look of mismatched items just conveys a lack of urgency in caring for your space. Any space that can look clean and organized is a pro for you as a seller. It's a simple psychological trick that activates a buyer's 'dream life' scenario. Instead of the overflowing random pen cup, buy a pack of black or blue pens for $2 and keep those in the cup by themselves."