79 Things You Never Need to Spend Money On, If You Don't Want To
We independently select these products—if you buy from one of our links, we may earn a commission. All prices were accurate at the time of publishing.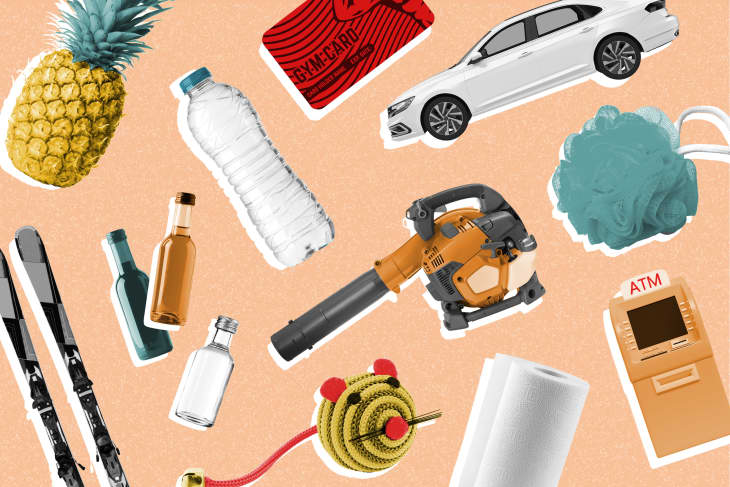 You wouldn't crumple up your hard-earned cash and toss it in the trash. But the truth is, you're probably doing the equivalent of just that with some things you habitually pay for without thinking much about it. From fees that could be avoided or waived altogether to items that have offensively high mark-ups to capitalize on convenience, here are 79 things you don't need to spend a dime on. (And just so you know, not all of these will feel applicable, depending your priorities or abilities, but some will hopefully teach you a surprising way you didn't know you could save real, actual money.)
Overdraft fees you can negotiate with your bank to have waived
ATM fees if there's a nearby grocery store or CVS you could get cash back from instead
Checking account fees
Credit report charges—you're entitled to a free one every year
Card payment fees, aka convenience fees that service providers charge if you pay with a credit or debit card. If you can't negotiate away the fee, pay with a checking account.
PayPal transfer fees that instantly transfer your balance to an account linked to your debit card
Opting for paper bills, as companies will incentivize you with discounts to receive your statements electronically
CoinStar machines that turn spare change to cash for a fee. Your bank probably has a machine that will do this service for free
Paying for organic fruits and vegetables like avocados, sweet corn, pineapple, onions, and others that are on the Environmental Working Group's Clean Fifteen list, which outlines the produce that has the lowest amounts of pesticide residues
Entire jars of spices when you're tying out a new recipe and can buy just the amount you need from a bulk canister
Packages of herbs that you can grow at home
Ancillary appliances if your airfryer or Instant Pot can perform the same functions
Specific kitchen gadgets that perform one task your knives can already do, like slice a strawberry or banana
Green onions (if you have scraps you can regrow)
Soup stocks and broths if you have kitchen scraps that can be reused to make them
Shelf liners when leftover wallpaper will do the trick
Formal dining sets if you rarely entertain
Buying perishable food in bulk
Single-serve coffee pods
Paying for plastic grocery bags instead of using reusable totes
Plastic wrap when there are so many ways to make reusable food wraps
Doggie poop bags if you can recycle old grocery or produce bags
Brand-name pet medications (if generic is available)
Cat toys (you know they love cardboard boxes more than store-bought stuff)
Rope toys for your dog—they're a health hazard, anyway
Tools you can borrow from a library
Moving boxes you can get for free at grocery stores, liquor stores, Facebook Marketplace, and other spots
Leaking toilets. Here's how to check if you have one
Cheap, incandescent lightbulbs that die quickly and can be replaced with longer-lasting, more energy efficient LEDs
High energy bills because you're leaving "energy vampires" plugged in, like toasters, gaming systems, and sleeping computers 
HVAC repairs because you forgot to change out your filters every six months
Gutter cleaning, which is an easier-to-tackle home maintenance task than you might expect (if you're able)
Breaking your apartment lease, unless it's an emergency
Paper towels if you can use tea towels or rags to clean up the mess
Dryer sheets that contain chemicals and can only be used once. Wool dryer balls are a great alternative 
Storage bins and totes to store items you'll never use
A carpet cleaner that you could instead rent at the grocery store or hardware store
Cleaning or damage fees after you move out of an apartment (Follow this move-out cleaning list to get your full deposit back.)
Travel toothbrushes (and floss) before asking your dentist if they have some to give you for free
Opting for rental car insurance before you've double-checked your existing car insurance policy to make sure rentals aren't covered
Snacks at the airport if you have time to pack your own
Late checkout and early check-in at hotels—it's often complimentary
Renting a car if public transportation and rideshare is widely available. Valets and overnight garages add up!
Hotel minibar purchases
An Uber from the airport when your hotel has a free shuttle
High exchange rates at airports or hotel desks when you can save switching out your currency at your bank before you travel
Cellphone roaming charges—check to see if there's a wifi network you can safely log into so you can turn off your data
Car washes without a rain guarantee, which allows you to get a complimentary wash if it rains within a day or two of your original visit
Oil changes every 3,000 miles—because most engines can go 5,000 to 7,500 miles these days, but check your car manual before committing to this schedule
A new car if the same model with low mileage is much cheaper used
Over-the-top document fees at car dealerships. Some places charge for processing a vehicle's paperwork, but if you negotiate, a salesperson might knock money off the car's price to make up for them
White noise machines—free apps like this one will stream white noise for you
Flower vases, since you can reuse bottles, jars, tea pots, and more free alternatives to hold flowers. (If vases are really your thing, it's worth hunting for discounted vintage ones at thrift stores!)
Loofahs: they're like petri dishes in your shower, cultivating bacteria. Try a silicone one instead.
Beauty face masks you can DIY with items from your kitchen, like avocado, honey, or yogurt (If you have the time and energy to make them, that is!)
Body scrubs you can DIY with coffee grounds and salts
Disposable razors when safety razors can save you money in the long run
A gym membership when you mostly workout outdoors, stream workouts, or have a gym at your apartment complex. (Many employers also have stipends for gym memberships)
Auto-renewing subscriptions that you don't actually use (Try this trick when you sign up for free trials)
Renting a router and paying your service provider $10 for it every month when you could purchase your own for cheaper than a year's worth of fees
Expensive HDMI cables, since premium cables offer the same level of picture quality
Forgetting to turn on settings that prevent your kids from making in-app purchases on games
Full-price gift cards that you can buy at a discount on resale sites
Rounding up on your bill to donate to a charity you haven't researched
Name-brand products if the ingredients are the exact same as the store brand
Plastic, single-use water bottles if you have a good reusable one and a bottle brush
Sporting equipment you can rent when you're trying the sport out for the first time and you're not sure if it will become a new hobby
Professional development books and courses for which your employer may have a reimbursement program
A shirt just like the one you never wear, but in a different color
Expedited shipping if you don't actually need the item in two to three days
Extended warranties that cost more than you could recover
Paying to file your taxes. You can get free federal tax filing on an IRS partner site if your annual income is under $69,000
Storage units to stash belongings you'll hardly ever use again
Delivery fees on each and every one of your takeout orders (You might want to consider a DashPass or Postmates Unlimited)
Wrapping paper—here are some alternatives
Pricey greeting cards (Dollar stores have lovely options!)
Rewards programs you have to buy into at restaurants you rarely dine at
Movie theater snacks when you can join a rewards program to use points on food purchases
Anything on sale that you wouldn't look twice at if it were full price
What other money wasters would you add to this list? Let us know in the comments.