This Sneaky Storage Spot Is Hiding in Plain Sight — So Why Aren't You Using It Yet?
We independently select these products—if you buy from one of our links, we may earn a commission. All prices were accurate at the time of publishing.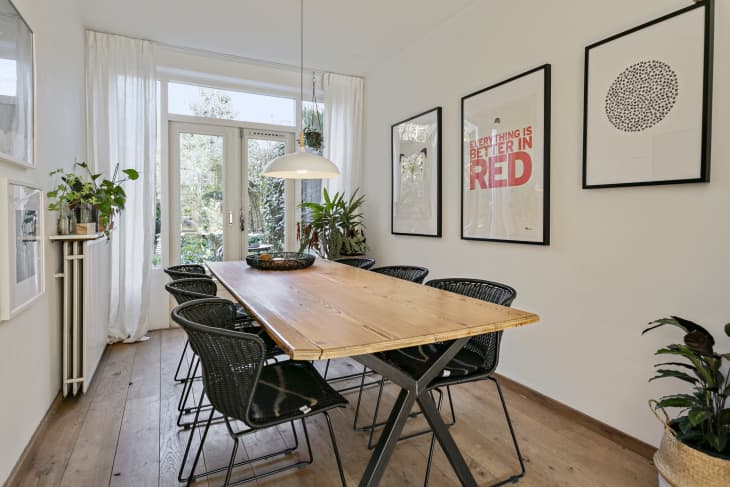 For the last eight years, Ineke Nordt has lived in a bright and airy 904-square-foot apartment in Eindhoven, where she moved to be closer to her mom, and to ease her work commute. "The place had to have a garden and preferably two bedrooms and I did not mind updating the home where needed," Nordt says. "What I did not want was an apartment, but when I stumbled upon this place, I was sold."
A reoccurring and calming theme in Nordt's home is her variety of leafy green plants. There are plants in nearly every area in her home, but the most interesting is the way she decided to display them in her dining room.
In the corner of Nordt's dining room, parallel to the dining table, sits a white radiator. Typically, these fixtures can be considered eyesores. (They're also not easily removed, especially in an apartment with shared heating systems.) But Nordt found a way to put the old radiator to work. She mounted a white, wood shelf above the radiator to serve as an additional space to display her plants.
Before you consider stealing this style tip, you need to know that plants will not be happy on top of an active radiator. If you can turn yours off completely, that is ideal, but if you can't control the heat and the radiator is usually on and warm, this may not be time to place anything on top of it, let alone plants that will dry out quickly. If your radiator is non-functioning or simply out of commission for the spring and summer, you can go for it. The best part of this creative display is that you won't be giving up any valuable wall or walking space because the radiator has been sitting there this whole time — now, it's just prettier!