Don't Pass Up This Glass Find at the Thrift Store
We independently select these products—if you buy from one of our links, we may earn a commission. All prices were accurate at the time of publishing.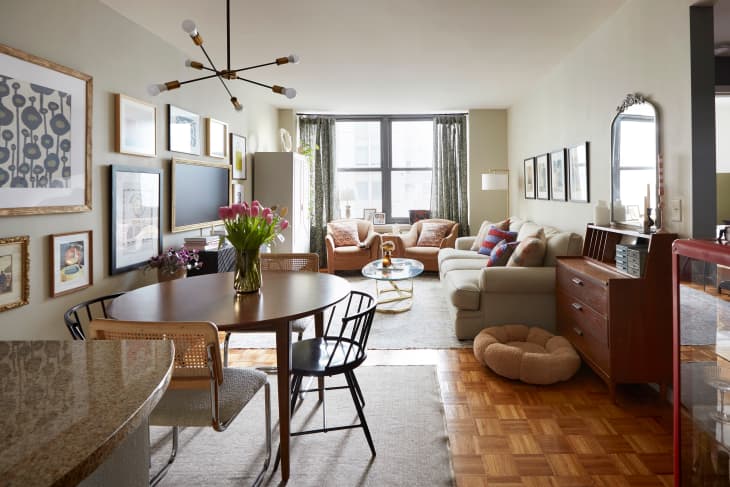 Ask me where I'd like to be on a Saturday, and I'll tell you the same thing every time: Hitting a bunch of estate sales or sifting through items at the thrift store. There's nothing like the thrill of the hunt, and while antique stores have a special place in my heart, I love to do the digging and identifying myself; it's just that much more gratifying when you unearth something great. One thing I always keep my eyes peeled for? Amber glassware. Be it a casserole dish, ramekins, a loaf pan, or drinking glasses, I'm gravitating towards it because stylistically, these pieces are so versatile, and they're useful, too. 
Follow Topics for more like this
Follow for more stories like this
Amber glassware has been popular for years now, thanks to the resurgence of farmhouse, apothecary, and mid-century modern styles, and it doesn't show any sign of slowing down. Amber glass actually absorbs the most comprehensive range of light waves of the light spectrum, which makes it an ideal material for storing products prone to UV-degradation, like medicine, beer, and oils. But beyond its practicality in packaging, it's a striking, different take on plain clear glass and feels just a little more special on your shelves or tabletop surfaces. You can seek out a plethora of amber-tinted options from modern retailers like Schoolhouse or Crate & Barrel, but my favorite vintage brand to collect is none other than Anchor Hocking. 
One of the approximately 20 or so companies that manufactured Depression Glass during the Great Depression, Anchor Hocking fulfilled the demand for ornate, detailed glass at a fraction of the cost with their new manufacturing innovations. These pieces were made in colors you'll likely see in antique stores, such as green, pink, amber, yellow, and blue. While their authentic Depression-era pieces are highly sought-after by collectors, I'm partial to the simpler, mid-century pieces from the 1950s, '60s and '70s. These pieces go for more affordable prices, and at thrift stores and estate sales, I can often find them for just a few dollars each. You can also find lots of options available on Etsy, if you're not into rummaging IRL. 
That being said, I don't gravitate towards amber glass kitchenware for the potential resale value; instead, the vintage aesthetic just works so well in my kitchen, and I'm all about the quality older products possess. Countless modern kitchen brands are available, but I personally prefer building a collection of vintage amber cookware and serveware that'll stand the test of time. Ideally, these styles will remain timeless, and I can one day pass the collection on, too. 
It doesn't hurt that amber glass pretty much coordinates with everything. In addition to my amber pieces, I have lots of neutral stoneware dishes, smokey gray glasses, green cookware, and brass utensils, all of which coordinate perfectly with the warm undertones in amber. I love mixing and matching dishware, but it helps to have a bit of cohesion and a throughline, especially when I'm plopping casserole dishes onto the table filled with bubbling dips or fresh pasta. 
In sum? I'd tell you to start collecting amber glassware, too. I don't think you'll regret it.