7 Things I Wish I Hadn't Forgotten About Before Moving to a Big City
We
independently
select these products—if you buy from one of our links, we may earn a commission. All prices were accurate at the time of publishing.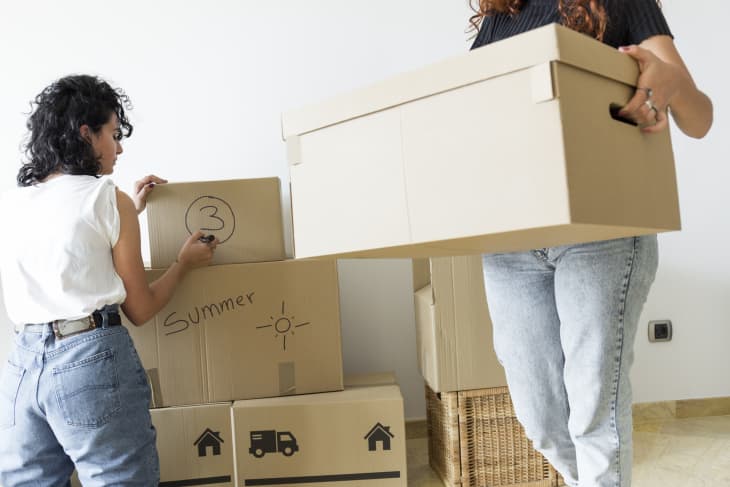 Moving is a whirlwind. After loading all of my things into a moving pod, hauling everything up four flights of stairs, unpacking it all, rearranging it, making several trips to Target for things I forgot to bring, and familiarizing myself with my new neighborhood, I was exhausted for literal months after moving from Missouri to New York. But now that I've been settled for a while and have a bit of distance from the process, I can reflect on the things I wish I'd known beforehand. 
While there are a lot of great resources there for planning a move, these are just a few little details I wish I'd thought of pre-, post-, and mid-moving. I hope they help you — whether you're moving 1,000 miles like I was, or just to the next state over. 
Pare down before packing. The theme with most moving advice is: start early, start early, start early — on everything. That includes sourcing boxes, booking a moving company, and more. But the one area that I didn't think to start early, or rather, to split into two steps, was decluttering. If you're planning to lighten your load before you move, do so over a couple weeks before you actually start packing up your things. Doing both in one step is overwhelming and slows down the packing process.

Take measurements while touring. While I did think of this after I applied for my apartment, I didn't think of it early enough. When I emailed my leasing agent to ask for my new place's dimensions, the information wasn't on file — because my building is older, and none of the apartments have uniform measurements — and I was back in Missouri, stuck imagining whether my sofa would fit in my building's stairwell. Had I thought of it before, I would have brought a tape measure during my initial tour to find out for myself.

Make a plan for what you're going to do with your stuff while you're unloading. Do you know where you're going to park your U-Haul, moving van, or truck? Do you have someone to watch your stuff on your stoop while you carry it up? Try to make arrangements with your building managers before touching down in the city. 

Pack hangers (at least a few). Although they're bulky, it's nice to have hangers on hand right away in your apartment so you can start hanging up clothes in closets and getting them out of the way — because things will be everywhere. 

Have a way to cool off. Moving is a workout, especially if you're moving in the middle of summer, like I did. When I arrived in my (again, super old, fourth-floor) apartment, it was hot and humid. I wish I'd had easy access to my ice trays and knew exactly where my towels and shower curtain were without having to dig. 

Similarly, have a way to clean! You don't have to whip out your Swiffer right away, but a fresh pack of disinfecting wipes in your first carload or box will do you a world of good. 

Know of a spot with nearby wi-fi While you're waiting for your own modem to arrive — and again, here, I recommend arranging this early so you'll have it close to your move-in day — research a good coffee shop in the area. You can go here to check email, order a window AC unit, or FaceTime your family to tell them you made it in one piece.