This Stylish, Easy-to-Assemble Shoe Rack Finally Helped Me Conquer My Bedroom Clutter
We independently select these products—if you buy from one of our links, we may earn a commission. All prices were accurate at the time of publishing.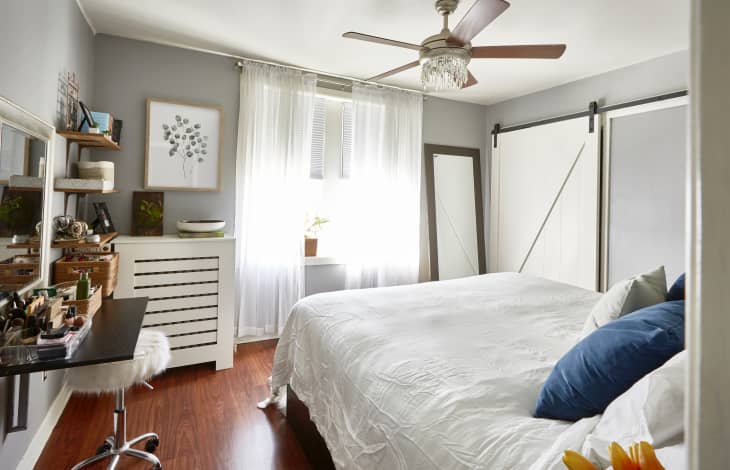 I've never been the cleanest guy and never been a huge fan of sweeping and mopping, but I have always been an organized guy, in my own, err, "special" way. Everything has always had its place, including my spice rack, cutlery drawer, extra towels, the couch blankets, and my eclectic collection of beer-brewing equipment — which is why it was always so frustrating when I looked at my side of the bedroom in my new apartment and saw (what could generously be called) a "row" of sneakers, boots, and running shoes. After tripping over them a few times in the dark, I finally broke down and picked up a dinky, $5 one-tier shoe rack from IKEA, but that didn't really help that much, and I still had plenty of shoes strewn about the room. What finally helped me corral my shoes was investing in this tower shoe rack from Yamazaki that took advantage of something I hadn't even considered: vertical space. 
This six-tier piece holds around 20 pairs of shoes — depending on how big they are — and comes with super-useful clip hooks on the side for hanging umbrella bags, and the wooden top acts as a perfect catch-all, especially if it lives in an entryway. Plus, it's from Yamazaki, which is one of our favorite and most-trusted brands when it comes to home organizing products. It also has a narrow, space-saving footprint, and comes in two colorways (black and white) to match any and every aesthetic.
I loved this organizer right out of the box. It was super easy to assemble, and only took me about 10 minutes (and I wasn't rushing). Its clean look is also really nice, since I'm not a huge fan of the anti-minimalist cultural shift I've seen floating around the web — I tend to prefer clean lines and muted tones, much to my girlfriend's chagrin. (If you haven't scoped out Japandi design yet, you're in for a treat.) I also love that since it's an open rack, I get to see all of my shoes, which helps when I'm putting together an outfit in the morning. The top shelf is great too, and I use it for my watch, wallet, headphones, and other of my day-to-day effects. And, of course, it saves a ton of space in my room, since unlike most shoe racks it goes up instead of out. 
And, I'm not the only one who likes this piece, either. "The parts were really lightweight and the product is relatively inexpensive so I was worried this would be a cheap IKEA type product," one reviewer writes. "However the pieces all feel really high quality, the predrilled holes were very precise, and I had no problems putting it together. The final product looks great too." So, if you're looking for an easy way to create more space in your entryway, bedroom, or closet, look no further than this tower shoe rack from Yamazaki.