The Ingenious Small-Space Solution That Instantly Transforms My WFH Desk Into a Vanity
We
independently
select these products—if you buy from one of our links, we may earn a commission. All prices were accurate at the time of publishing.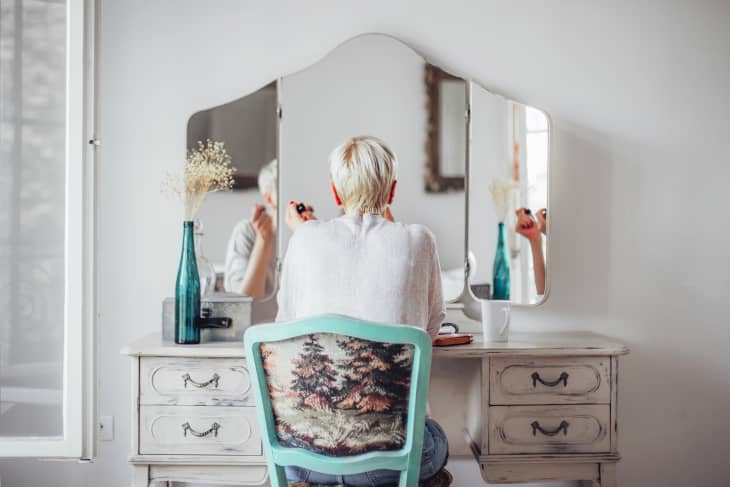 Up until two months ago, I'd always been lucky enough to have my own bathroom. The space included a roomy sink vanity, where I could take as long as I wanted to wash my face, languidly apply every step of my skincare routine, and do my makeup as I listened to my favorite podcasts. Cut to today, and I'm sharing a storage closet-sized bathroom with three other people. Suffice to say, I don't have the privilege of taking my sweet time in there when everyone's trying to get ready for work. After just a couple days of this new lifestyle, I realized I was in dire need of a mirror for my bedroom desk — trying to flatiron my hair while staring into a compact wasn't going to cut it. After searching for one on Amazon and reading up on the countless options available, I finally decided on this specific trifold mirror. It's the best housewarming present I could've bought myself.
Before I even started looking for a vanity mirror, I knew I wanted a trifold that could stand up on its own. Those descriptors didn't really help to narrow down my search, but what ultimately sold me on this particular mirror was its size. When it's closed, the mirror measures 10 by 12 inches, making it substantially larger than the other ones I looked at but still compact enough to sit atop my small desk. The large center mirror is sandwiched between two skinny rectangular ones. I love that I can adjust them to the perfect angle when I'm applying bronzer, for instance. Because I can see my side profile, I can avoid creating harsh dark lines that I wouldn't otherwise see. My purchase even came with a round magnifying mirror that adheres on via suction cups — no more unruly eyebrow hairs!
Even better still, the center mirror lights up. During the day, I like to leave it off and just get ready in natural light. But in the evenings, I simply plug in the mirror's USB cable, choose my lighting tone — cold, natural, or warm — and work away without having to guess what the final result will actually look like. I also love that the mirror tilts as far back as I need it to; this is especially helpful when I'm curling my lashes or applying eyeshadow.
Basically, if, like me, you look forward to sipping your coffee in the mornings while getting ready in a relaxed manner, you need this mirror. I got the white version for $29.99, but it's also available in black or rose gold for just $19.99. The fact that it looks so sleek is just the icing on the cake.