I Landed My Job by Applying to 10 a Day — This Is How I Did It Without Burning Out
We
independently
select these products—if you buy from one of our links, we may earn a commission. All prices were accurate at the time of publishing.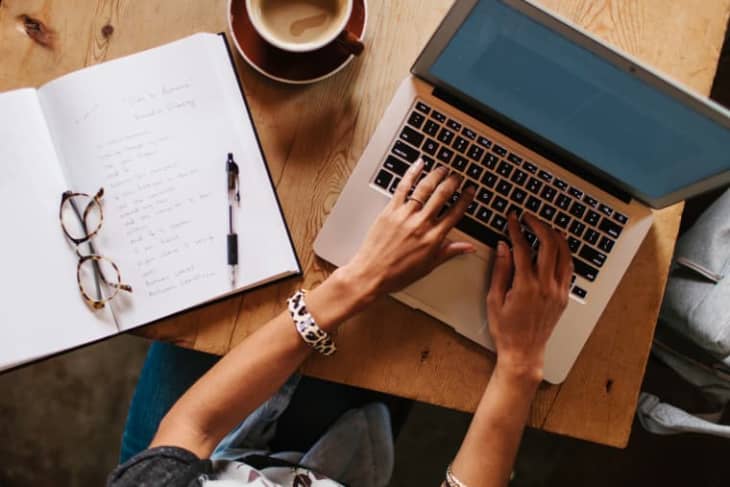 I remember the desperation of wanting to get out of a toxic work environment, but knowing rushing the process wouldn't help. If you find yourself in a similar predicament, let me introduce you to my tips for landing a job without burning out in the process. 
Build a straightforward but versatile resume. 
Almost six years later, I still hear my business professor's voice emphasizing the importance of an easy-to-read resume. Make it simple but worthwhile. Recruiters will only spend six to seven seconds looking at a candidate's resume — and every second matters. 
Luckily, it's simpler than you might think. Keywords and phrases work like magic, plus a few little-to-no-effort tweaks. As I scrolled through job postings on LinkedIn, I copied bullet points from job descriptions that aligned closely with my experience and pasted them on my resume. I personalized the points, crafting the perfect version to use for every application rather than making a tailored copy each time. I have to admit that I struggled with coming up with the right words to highlight my background. A friend once sent me Harvard's resume and cover letter guide, containing the best selection of action verbs to use (see page 4). 
Here's an example of a bullet point from a social media role that I customized to fit my experience: Helped research, formulate, and execute marketing campaigns to increase foot traffic by 15 percent. Though I used a commonly overused word like helped, I incorporated keywords like research, formulate, and execute, as well as including an actual figure to call attention to an accomplishment. I'm no expert, but Wonsulting's CEO and Founder Jonathan Javier shared a useful resume breakdown.
Once I nailed my resume format and material, I updated my LinkedIn profile to reflect that. A firm believer of working smarter not harder, I added the same bullet points under each job from my resume. 
Befriend the algorithm to achieve better job search results.
The job search process drained me to the point that I had to break up with LinkedIn before I figured out an effective way to utilize its job board. As I was revamping my resume and clicking on dozens of job postings, I started honing in on the industry I wanted to switch to as well as the role I could see myself doing. What are my career interests and goals? Where do I see myself working but also growing? How do I want to grow as a professional? I was asking myself all these questions to narrow down my search as much as possible. 
Based on my searches, the LinkedIn algorithm picked up on my interests and ideal roles. One of my proudest feats is mastering the art of targeted searches on LinkedIn. Filters became my best friends as I spent my after-work hours looking for a new job opportunity. I started out with a broad idea of the next role I had in mind. For example, I would search for "marketing," with my filter settings checking off the following:
Date Posted: Past Month
Experience Level: Entry level, Associate 
Job Type: Full-time
On-site/Remote: Remote, On-site, Hybrid
Distance: 0 miles
Location: Chicago, IL
When I felt ambitious, I would add specific companies and industries to enhance my search results. I would turn on the Easy Apply feature on the days I felt lazy. Playing around with the filters will help you navigate your targeted searches better — even clarifying exactly what you didn't know you were looking for.
After two weeks of searching and filtering, I noticed my algorithm catering to my interests more. Ultimately, I stumbled across my current job in the "recommended for you" section. The rest was history. 
Be patient and trust the process. 
This is the most important step. I shed so many tears of frustration and couldn't not stop being so hard on myself. I was aware that not every interview round would be successful, but the first batch of rejection emails still stung. As cheesy as it may sound, with a little bit of time, rejection began to feel more like redirection. 
Don't dwell on a job, whether it's just a posting, a failed second-round interview, or an almost-offer. By that, I don't mean to be in a rush to land the job. Utilize the time to prepare for the next opportunity by researching job details and reflecting on career goals. 
You can take it a step further and set a schedule to focus on job prep. Juggling a hectic 8 a.m. to 5 p.m. job and a social media side hustle, I had to be mindful of how I split my time without everything consuming my life. In pockets of time throughout the day, I looked at and saved interesting job listings. Each night, I dedicated about two hours to applying to saved jobs on LinkedIn. This little habit change helped me stay more organized and optimize my time. I also incentivized myself to be productive on Sunday afternoons by finding a new coffee shop to station at as I got work done. I was able to apply to at least 10 jobs a day with a standardized resume on deck.
Finding a new job does not have to be this tedious and boring process. If you're already stressed at your current job, try not to multiply that stress through your job search — slow down, search thoughtfully, work smarter, and take your time.