These 6 Little Habits Make It Easy to Get Outside Every Day
We independently select these products—if you buy from one of our links, we may earn a commission. All prices were accurate at the time of publishing.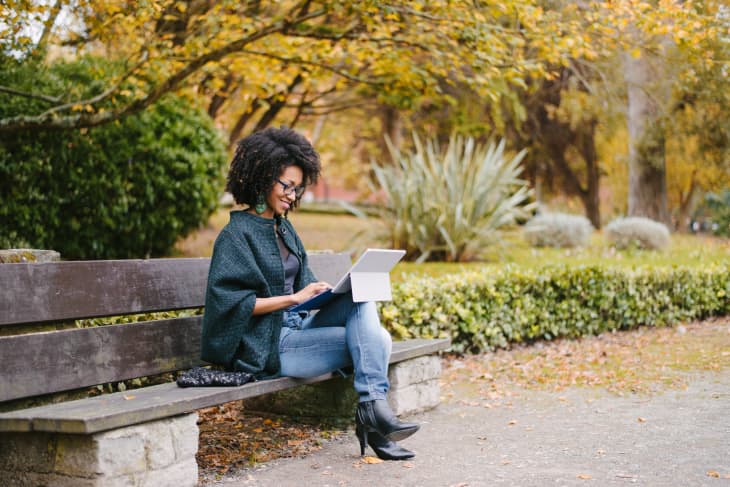 Have you ever turned to your partner or roommate at the end of the day and asked, "What's the weather like today?" Then it hits you. You've been cranking through phone calls, dialing into Zoom, and you haven't walked through your front door even once today.
It's time to put an end to that and get outside. Seeing the sun, feeling the breeze, and watching the trees and flowers change from season to season is a reminder that you're alive. And, no matter how busy you are, there are changes you can make to break through your four walls and enjoy the great outdoors. You don't need a lot of space or time, you just need to make it a priority. 
Here are six little habits you can start with to help get outside and breathe in that fresh air on the daily.
Start your day with coffee outside.
Take your morning routine of drinking coffee and checking email outside (or, better yet, take those few minutes for yourself and simply sit). Whether you have a yard, a patio, a small balcony, or even a front stoop, all you need is a place to be outside and start your day with a dose of Vitamin D. 
Alternatively, if you're not a morning person, you can end the day with a cocktail or refreshing beverage outdoors — something to mark the transition of the workday while also enjoying a few minutes of relaxation to the soundtrack of chirping birds.
Have a small group meeting where you don't need to be on camera? Or an all-hands where you're only listening? As long as you don't need to take notes, you can take it on the go! Pop in your headphones and stroll around the block or sit in the park while you tune in. The physical activity can help get the creative juices moving and it's a great tactic for one-on-ones or any other meeting where removing video can help colleagues open up more.
An added bonus: Walking around your neighborhood helps you feel connected to the community and is a reminder that there are other people around — even if you're working from home every day.
Block Out 15 minutes for a mid-day break.
It's easy to say you'll go outside for a midday break, but how often do you actually do it? If you block it on your calendar, you're more likely to follow through (plus, no one will book a meeting over your planned stroll). Even 15 minutes is enough to feel the sun on your skin and reset your outlook on the day.
Opt for an outdoor workout class.
Yoga outdoors just hits different. Over the past two years, many workout studios and gyms moved their classes outdoors — and some never went back in. Getting up for a few early morning sun salutations as the sun is actually rising is invigorating, and reps of burpees in a HIIT class don't seem so bad when there's a gentle breeze blowing. It takes me back to those carefree days of playing outside during recess — and why should that stop after childhood?
Tend to a container garden.
There are so many benefits to planting a garden, one of which is that it gets you outside. The plants have to be watered, the veggies and herbs have to be harvested, and, even if you won't use your own self-care as a reason to go outside, taking care of the plants is the perfect excuse. They'll whither without you, so you have to get out there!
Shut the computer and lace up your sneakers. Ending the day with a walk, particularly if it's in that 5 p.m. to 6 p.m. hour when everyone is out with their kids, dogs, and bikes, is the best reminder that the world around us is full of life. It doesn't need to be a long walk but, as golden hour sets in, you'll be glad you got outside to celebrate another day.