This $5 Gift Is Perfect for Wine Lovers—And Virtual Holiday Gatherings
We
independently
select these products—if you buy from one of our links, we may earn a commission. All prices were accurate at the time of publishing.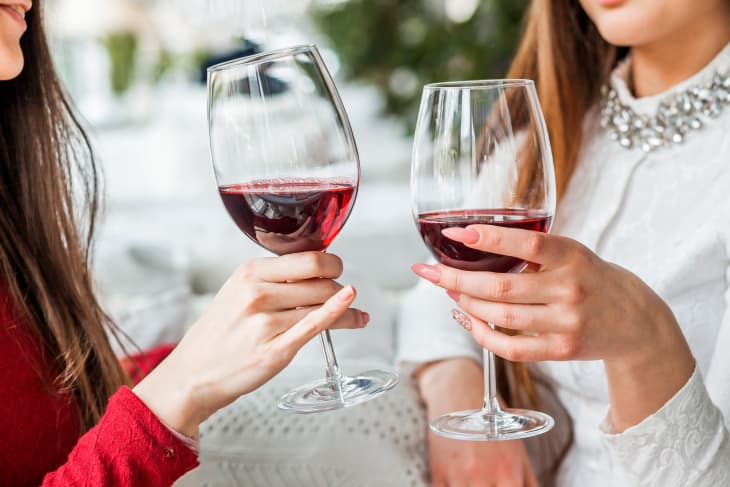 If there's one thing you should know about my dad, it's that one of his few vices is wine. My family lives in the Willamette Valley of Oregon, which has a wine culture comparable to Napa. Each year during harvest season, my parents assist a local winemaker with the punchdown process in exchange for a small portion of grapes that they use to make their own pinot noir blend. My dad spends hours making spreadsheets and customizing each blend until they end up with a satisfying concoction that is then bottled and put in storage until the time is right. It's a uniquely laborious process that he takes immense pride in. 
All of this is to set the scene for the process of gift shopping for my dad. Every year he proves to be one of the most difficult people on my list to shop for, because he doesn't actually care about receiving gifts. He'll proudly proclaim that all he wants is quality time with his family, which is very cute, but also not something I can add to my shopping cart. 
This year for his birthday, I found myself shopping at the last possible second, in part due to my poor planning and in part because of how challenged I was to come up with a unique idea. I was wandering around a local boutique when I stumbled upon a wine tasting notepad. It had space for four glasses and a small section to take notes, and I knew right away that it was perfect for him. Lo and behold, he was delighted to open it, and I'm sure it'll be in play this year as he puts together his 2020 blend. 
Anyone can easily recreate a variation on this idea as a gift this year. You don't have to be a winemaker to enjoy tasting, and it's a fun activity for holiday gatherings with family and friends. And if wine's not your thing, you could easily substitute beer, coffee, tea, or even foods like cheese and chocolate. Though I couldn't track down the exact version of the notepad I bought, I found a similar printable placemat version on Etsy that has space for four glasses, flavor notes, and your rating.
The best part? It's easily adaptable for long-distance holiday celebrations. The PDF is instantly downloadable and super affordable, so everyone can gather 'round ye old Zoom to compare notes. It isn't quite the same as sitting down together, but it is a memorable and safe way to spend quality time with far-away loved ones this year—and what could be better than that?