This Colorful $36 Small/Cool Find Solves Two Problems You May Not Even Know You Have
We independently select these products—if you buy from one of our links, we may earn a commission. All prices were accurate at the time of publishing.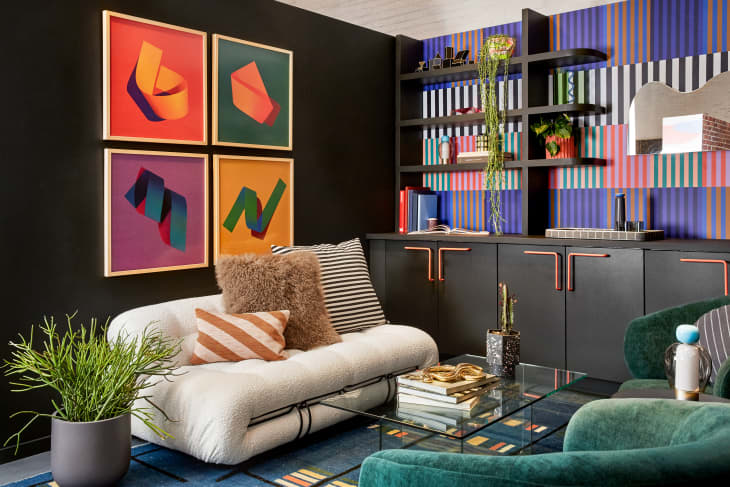 When little problems arise at home, like running out of counter space in your kitchen or needing a new lightbulb for that cute vintage lamp you just scored while thrifting, it's usually easy enough to shop for a quick solution — you know what you're looking for, so you go find it. Problem solved. But some of my favorite shopping moments happen when I have no idea what  I really need and I just happen to stumble upon something that instantly inspires me.
Such was the case recently when I perused Apartment Therapy's Small/Cool NYC event. I was instantly drawn to designer Jessica Davis' "Memphis-Deco" inspired room because it managed to beautifully blend two things I've always felt are practically impossible to bring together — bold colors and loud, geometric designs. While I've already committed to a pretty neutral color palette throughout my home, my color-loving spirit is constantly in search of subtle ways to incorporate soft pops of color that won't throw off my overall aesthetic. (That's problem #1.)
As I took in all of Davis' clever color choices throughout the room, these luxe acrylic stackable containers called "Storage Gems" from Open Spaces immediately stood out. What a low-key way to add a statement pop of color to a counter or tabletop without committing to a larger piece, I thought. (Problem #1 solved.) I looked them up and found that they come in an array of colors, which meant I could use them in more than one room in my home. Plus, I realized they could also solve my other common annoyance at home — I never have anywhere to put my keys.
I have an entryway, with a gorgeous table, two faux potted plants and decorative picture frames, but inevitably I still wind up emptying my pockets or handbag right there and tossing their contents wherever there's free space. It's the first place I run to neaten up when unexpected company shows up. (Introducing problem #2.) Yes, I've tried placing a tray there as a home for knickknacks like these, but throughout the week, the tray always starts to overflow and looks a little too messy for me. Having these see-through containers on the entryway table to house these items permanently when I'm at home would make so much sense and add another element of instant style to the space. (Other problem solved!)
While it's a no-brainer to think of using acrylic containers to hold small bathroom toiletries, consider using them instead to house the other little things lying around your home that you constantly find yourself collecting with nowhere sensible to really store them. A popular decluttering strategy is to create a designated place for everything you're always cleaning up to go, so that no item in your home is left orphaned long enough to turn into clutter.
If you're like me and that clutter begins in your entryway or landing strip, I think I just found our solution. And don't forget, as an added bonus, you're also adding an instant statement moment by infusing subtle pops of color into the space without having to overcommit. A two-piece set costs $36, and I think that's a lot of bang for your buck.