5 Ways Debby Ryan and Josh Dun's Home Completely Disregards Resale Value
We
independently
select these products—if you buy from one of our links, we may earn a commission. All prices were accurate at the time of publishing.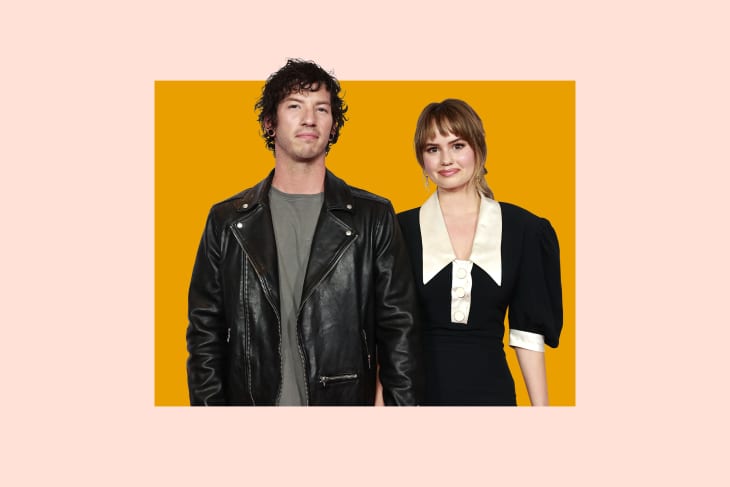 Take actress Debby Ryan and Twenty One Pilots drummer Josh Dun, for instance. The couple's recent Architectural Digest home tour makes a powerful argument for personalization. Upon purchasing their Columbus, Ohio, home, Dun recalls "walking through the house and feeling like there was so much room to put our personalities into it." He adds, "It was really the first time that both of us felt the freedom to put our mark on a place."  
And leave their mark, they did! While the couple's "all-in" mentality has sparked comments section controversy among viewers, Ryan and Dun successfully transformed a fairly standard Midwestern McMansion into a psychedelic treehouse-inspired estate. For those aching to unlock the freedom to declare, "Resale value be darned!" look no further. Here are five ways Ryan and Dun added personality to their home that you can glean inspiration from.
A Menagerie of Weird Stuff Makes a Bold First Impression
The actress/rockstar duo's home tour kicks off with a glimpse of their entryway, which sets the tone for the rest to come. Home stagers and real estate agents often recommend keeping things neat and neutral in the entryway, but that's not the case here. Some noteworthy items the celebs showcase include a sombrero, giant corn stool, over-scaled moss-covered mushrooms, and a side table with bird legs. Welcome to the Ryan-Dun home, y'all! Select a menagerie of quirky or personal objects (bonus points if there's a story attached!) to establish a bold introduction to your home. 
They Commissioned a Psychedelic Mural — And Added a Wrestling Ring
One highlight of Ryan and Dun's space is their psychedelic, cavernous mushroom-muraled "cathedral room." Based on traditional layouts for Midwestern homes of that scale, this space was likely intended as a cozy reading nook, home office, or bonus dining space. Ryan and Dun's version offers them freedom to dial the vibe up or down as they please. 
Similarly, when confronted with a massive lower-level space, they swerved right past an air hockey table or massive sectional and arrived at … wrestling ring! 
You can make an equally quirky decision in your house, too. Don't need your guest bedroom? Make it a yoga studio. Unused footage in the backyard? Add a pickleball court. Extra nook with endless options? Literally, do whatever you want! It's your home.
They Incorporated Life's Artifacts
Throughout their design journey, Ryan and Dun incorporated plenty of antiques in addition to their own pieces. But the standouts are objects collected from their personal lives, like Ryan's various set chairs, or their framed Blockbuster card. 
I love the idea of displaying noteworthy life artifacts like a personal museum. In my own home, I've framed festival entrance buttons (from the '90s, before we had activated wristbands!), handwritten recipes, and newspaper articles. Don't stash away the past — put it on display! 
A Recording Studio Was Added — And Given a Funky Name
One moment along Ryan and Dun's tour made me gasp, and that was the Boom Boom Room in-house recording studio merch reveal! Frankly, I'm obsessed with the idea of naming a room (or the entire house itself!) and branding it. 
In practice, this could look like using Canva to make a logo, then scouring Etsy for ways to incorporate your home's brand. Supply matchbox souvenirs with your home's name, keep personalized robes available for guests, or stock your bar cart with branded wine glasses.  
There's Monkey Wallpaper!
Ryan and Dun don't care about your neutrals, and I applaud them for it! I'm all about statement design that gets even better when you zoom in on the details. Take, for instance, their boozy monkey wallpaper. Or their classically ornate bust of … The Rock. And my personal favorite, the filtered water dispenser installed outside their bedroom (practical, unexpected, and ingenious!). 
When you deploy your life savings for a home, don't select your wallpaper for a future inhabitant. Install the whimsical designs and let the next owners cover it up — or enjoy your lasting mark on a truly special place.