6 Home Decor Trends Entering the Chat on Flooring in 2023, According to Interior Designers
We independently select these products—if you buy from one of our links, we may earn a commission. All prices were accurate at the time of publishing.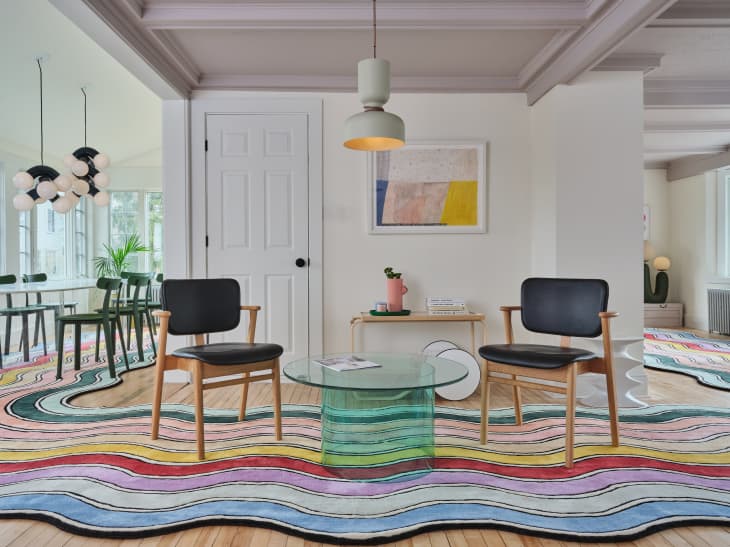 Ready to give your home a bit of a revamp now that we're almost halfway through January? Maybe it's time to take a look down at your floors. If they could use a bit of love, you've come to the right place. Below pro designers have weighed in on the top flooring trends reigning supreme this year. Whether you're a renter in search of a new rug — or you're ready and willing to undertake a more permanent flooring project — these styles are all on the rise and worth considering if you like to jump on home decor trends before they truly take off.
Follow Topics for more like this
Follow for more stories like this
"In 2023, the trend for hardwood is moving away from grainy, rustic wide plank options towards a more subtle grain with clean looks. Color is moving away from gray and into light natural oak territory, which offers natural, neutral floor colors versatile enough to fit with a variety of living spaces." —Designer Sarah St. Amand
Budget-friendly checkerboard floors
"I've noticed a lot of checkered patterned flooring that's been creeping up in spaces. This trend will become bigger in 2023. People are liking the traditional look of creating this look with contrasting marbles, but consumers are also using paint to create a similar effect on wood floorings since tiling can be more expensive to install. Whether diamond or the standard checkered board pattern, this look will become more prevalent in the upcoming new year." —Designer Linda Hayslett of LH.Designs
Restaining or (re)painting > replacing
"Try to work with what you have! Keeping your existing floor is a smart way to save costs. We recently kept a client's existing orange Saltillo tile kitchen floor and stained it a darker milk chocolate color. It looks gorgeous mixed with our watery-blue cabinetry!" —Designer Laura Pankonien of The Pankonien Group
Tiled floors FTW (especially flagstone)
"Ahead you will be seeing large scale, natural tile flooring. This larger format tile trend will be perfect for using throughout kitchens and even in some open concept spaces. Flagstone, limestone, and sandstone are just a couple materials that will be spotted in 2023." — DesignerLisa Kooista
"Flagstone flooring will be making a comeback in a big way in 2023. It's versatile, durable, natural, and cool." —Designer Molly Torres Portnof of DATE Interiors
"Though wood flooring has been the dominant force for homes, people are starting to look at having their main flooring be tile instead. This is because wood flooring, though warmer, gets scratched, dented, and fades in the sunlight easier than tile [does]. Cleaning tile floors is easier as well because you don't have to worry as much about chemicals or food falling on it and staining the tile." —Designer Linda Hayslett
"The chevron flooring pattern has always been around, but it's starting to really push its way to the forefront in making flooring look and feel more interesting and textural. 2023 will see more people installing their wood flooring in a chevron design to invoke a more luxe look in their homes." —Designer Linda Hayslett
"Herringbone or chevron pattern is always a favorite and never goes out of style and creates more visual interest than a typical wood floor. Innovative layouts are gaining popularity." —Designer Sarah St. Amand
Uniquely-shaped and bold, oversized rugs
"Lately, there's been a trend toward rugs with bold patterns and unique shapes. Larger rugs that anchor a room have also become popular in the open concept homes that are now common." —Designer Kyra Schulhof of Fayette Studio