These 4 People Bought Their Homes for Below Listing Price — Here's How They Did It
We independently select these products—if you buy from one of our links, we may earn a commission. All prices were accurate at the time of publishing.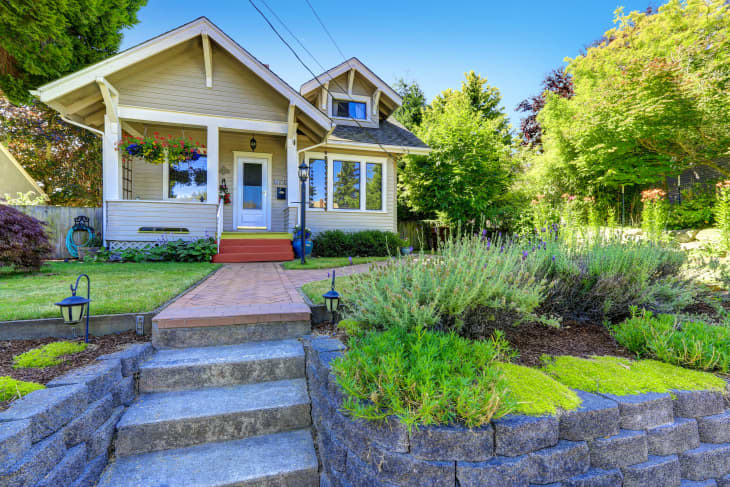 If you've been in the market to buy a home anytime over the past few years, you're wiped out, likely exhausted by bidding wars and a startling lack of home inspections. Even now, as things look to be on the upswing for buyers, it's hard to believe it until you see it. With that in mind, I talked with a few homebuyers to find out exactly how they bought their homes for under their listing prices.
Follow Topics for more like this
Follow for more stories like this
This mystical experience is something I can attest to personally. I've bought two times and I've paid under the asking price both. This happened once in 2019 and again in 2021; in each case, I found properties that had been sitting on the market. That's my trick to coming in under list — finding the home no one else wants. 
The second trick is a related one: Find the house that needs significant work. Dated bathrooms, shoddy plumbing, a loose interpretation of what's up to code — these are all reasons a seller might be motivated to accept your lower offer. And here's exactly how four buyers did it.
Lauren and Caleb — Louisville, Kentucky
Like many couples, working in a small apartment far from family nudged Lauren and Caleb in the direction of buying their first home. They had been living in Minneapolis when the world stopped in 2020. A few months later, they moved in with Caleb's parents in Kentucky. That's when the casual Zillow searches started as they explored their next move.
"We figured we'd browse the internet for a couple months to get a sense of what we were looking for, then find a Realtor and really start house hunting after the holidays," says Lauren.
But then, a low-stakes stop at a for-sale-by-owner open house left them wondering whether they'd already found the home that checked all their boxes. "Homey with good bones," is how Caleb describes the charming brick house on the tree-lined street each time it came up in conversation over the next few weeks, and again when they stopped by the second open house.
"It was for-sale-by-owner during a slow season and we had a sense that it wasn't getting much attention," says Lauren. "At both open houses we were the only people there."
That worked in their favor.
"Since the house was for-sale-by-owner and we didn't have a Realtor, we sort of DIYed this situation," Lauren explains. "As first time homebuyers, we felt a little like we were jumping off a cliff. I'm not sure I'd recommend it, but it worked out fine in the end." 
The couple did a lot of Googling, drafted a purchase letter based on a template online, and leaned on a Realtor family friend for a little advice.
Based on comps and an understanding of appraisals, they offered $185,000 on the $200,000 listing. Because there weren't any Realtor fees, they knew there might be more flexibility, and they were right. The seller countered at $187,000, which was the final selling price. "We hired a real estate attorney to represent us and do all the closing paperwork, which cost only about $800," Lauren adds.
A couple of factors that they believe contributed to their competitive low offer include the location — in a city neighborhood, but not necessarily one of Louisville's "hip" areas — and that it needed a little work in some places. Additionally, it was later revealed during the inspection that most of the previous owner's renovations didn't involve pulling permits. There have been a few projects bringing everything up to code, but nothing that would have dissuaded them, they explain.
In the two years since buying the place, Lauren and Caleb have remodeled the second floor, enjoyed living in their convenient neighborhood, and remained incredibly grateful they bought before the housing market went through the roof shortly thereafter. In contrast to many of their friends' experiences, Lauren says, "Our homebuying experience felt leisurely. We spent three weeks deciding if we wanted the house and picturing our lives there."
Hannah — Michiana Shores, Indiana
House-hunting in an area with low inventory is usually a recipe for a bidding war. But not for Hannah. After an on-and-off house hunt for about a year, Hannah found the vacation home she'd been looking for in Michiana Shores, a town on the shores of Lake Michigan — and she nabbed it for under asking.
The house was listed at $389,000, which Hannah felt was high for the condition of the home, but notes that's often standard for the area. "Many of the homes in the area need work and tend to be priced high," she says.
In some cases, for a vacation home, a seller might live with a less-than-updated interior, but Hannah and her family knew they planned on renting the home out when they weren't there. That meant they would actually need to do the work — and do it right. 
"We knew we would need to make improvements to the house that would allow us to rent it out for a profit. The house was liveable, but it was dated and needed cosmetic work," explains Hannah. That meant they needed to come in as low as possible, without offending the seller into rejecting the offer outright.
Hannah's husband has his real estate license and the couple has bought and sold properties before, so they knew how to write a competitive offer. While there weren't many comps around because of the low inventory, they found what they could to come up with price-per-square-foot metrics as a basis for their number. "The listing was also sitting on the market for about two months, so the seller likely knew it was overpriced," Hannah says.
They went in with an offer of $350,000 on an asking price of $389,000, and accepted the seller's counter offer of $360,000. "We were able to give the seller a quick 30-day close, which we believe also allowed for additional wiggle room in the lower offer price," Hannah adds.
Andrea — Washington, D.C.
Living in a three-bedroom home, Andrea and her family realized in 2020 that they needed to upgrade — but houses were flying off the market. This was at the height (or rather, the bottom) of the low rate heyday, and, if you weren't ready to buy that instant, you weren't going to get a house.
That's when Andrea found herself in a surprising situation. "We looked at a dozen homes or so and then saw a house that had been sitting for over a month. We hesitated and then decided to look at it again a few weeks later," Andrea says.
It was still on the market, and in a neighborhood where homes were quickly selling for hundreds of thousands of dollars more.
The rowhouse was originally listed for $1,595,000 and had already been reduced to $1,545,000, but it seemed that its issues were holding it back at that price point. "Given that fact and that it needed a good amount of work, we put in an offer below asking at $1,525,000," explains Andrea. 
The updates needed were large-scale issues, including sagging upper-level floors that required a safety stamp of approval from a structural engineer, as well as cosmetic fixes like crumbling tile, broken fixtures, and nails sticking out of the parquet floors. It was a project, but one they knew could be well worth it with some TLC (and an offer below listing price).
Despite the significant decrease over its original price — $70,000 less — Andrea's real estate agent supported the move and guided them throughout the offer process. While there was some pushback, they stood firm and, in the end, Andrea and her family had their offer accepted. Two years later, she feels they made a great investment, even with the work necessary, especially as they've watched other houses nearby sell for significantly more.