This Le Creuset Pan Might Be the Only Cookware You Need for Fall — and It's on Sale!
We independently select these products—if you buy from one of our links, we may earn a commission. All prices were accurate at the time of publishing.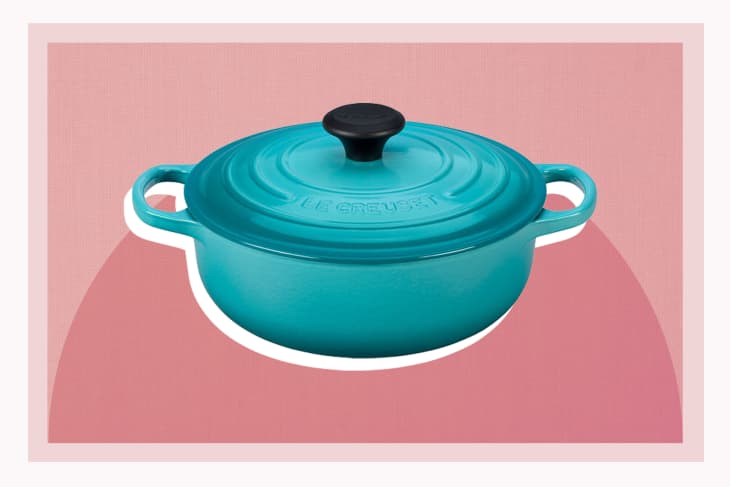 Real talk: The best part of fall isn't the pumpkin spice or sweaters, Halloween, or pretty leaves. It's the cozy, slow-cooked dinners like soups, stews, braised meats, and baked pastas that fill your home with savory scents, comforting warmth, and soul-nourishing food. There's nothing better than tossing a bunch of stuff into a pot and enjoying a steamy bowl of goodness hours later. 
Follow Topics for more like this
Follow for more stories like this
Actually, there is one thing better: a single piece of cookware that lets you cook all those cozy autumnal recipes to perfection: The 3 ½-quart Le Creuset Sauteuse Pan does just that, and even better, it's currently on sale for almost 40% off!
This pretty cast iron pan is an all-in-one kitchen rock star. The wide, shallow base is perfect for sauteing veggies and searing or braising meats — all the stuff you'd do in your regular kitchen pan. But the sloping sides give you plenty of room to simmer soups, reduce sauces, and bake pasta dishes like you would in a heavy-duty pot.
The sauteuse works on any type of stovetop (even induction) and is oven-safe up to 500 degrees, but what takes it from good to great is the cast iron construction and expertly crafted shape. Cast iron is beloved for its ability to evenly distribute heat while trapping in just the right amount of moisture, and combined with the pan's short, sloping sides and large surface area, it ensures everything gets cooked evenly, every time, no matter what you're whipping up. 
Available in 12 color options (including an autumnal Nectar), the lightweight sauteuse pan will likely become your go-to for all your cool-weather cooking. Normally $295, it's currently priced at $180, and ready to whip up all the soups, braises, and baked pastas of the fall season and beyond.

Buy It: Le Creuset 3 1/2-Quart Sauteuse, $180 (normally $295)