I've Been Wearing These Cozy Slippers Practically Everywhere for Months — and I Never Want to Take Them Off
We independently select these products—if you buy from one of our links, we may earn a commission. All prices were accurate at the time of publishing.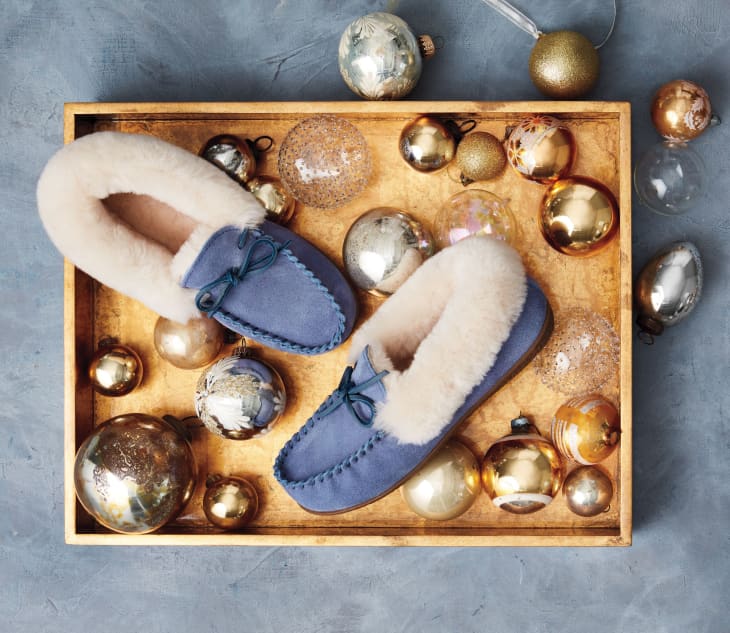 There are a ton of cozy slipper options out there. And if it's cold where you are — and getting colder — shopping for the pair that will keep your feet toasty through winter is overwhelming at the least. Hunting for the best home goods may be my job, but I always get paralysis when shopping specifically for myself, so I'd given up on finding my own perfect pair of slippers when I got the chance to try Overland's. I guess love truly does come around when you stop looking for it.
Overland is known for their high quality shearling, leather, and suede clothing (but also have stunning collections of sheepskin rugs and luxe wool throws). When I saw the slipper collection, I was almost afraid to try a pair — they looked too luxe to actually use, and I have a tendency to overuse things and ruin them quickly anyway. But for the sake of optimism and testing for the best, I grabbed a pair of the Taylor Australian Merino Shearling Slippers. And when I say grabbed, I more mean toiled over the 25 different men's and women's options and the individual color selections for each. House shoes are notoriously unattractive, so I was pretty blown away by the fact that I could see myself showing off in every single style and nearly every color. The Country Blue hue? I mean, come on.
First impressions aside, I've had my Taylor Slippers for over two months now and can honestly say they are my first favorite thing about waking up in the morning (besides, of course, the actual waking up part). With or without socks, the shearling interior is absolutely divine. And because they're so attractive, I've been known to run errands and even head to casual breakfasts as friends' homes in them. They've taken quite the beating over time, but I'm still waiting for them to look like they have. From droplets of wine that seem to fade into the Cedar-colored leather to the easily wipeable soles which take me from walks with my dogs to the sofa ottoman seamlessly, these slippers are resilient.
If you're like I was and have ever been hesitant to treat yourself to a pair of luxe house slippers, you might actually find that 1. You're worth it, so do it, and 2. There is a pair out there that will stand up to the investment.