Create the Clutter-Free Pantry of Your Dreams with OXO's Pop Container Sale
We independently select these products—if you buy from one of our links, we may earn a commission. All prices were accurate at the time of publishing.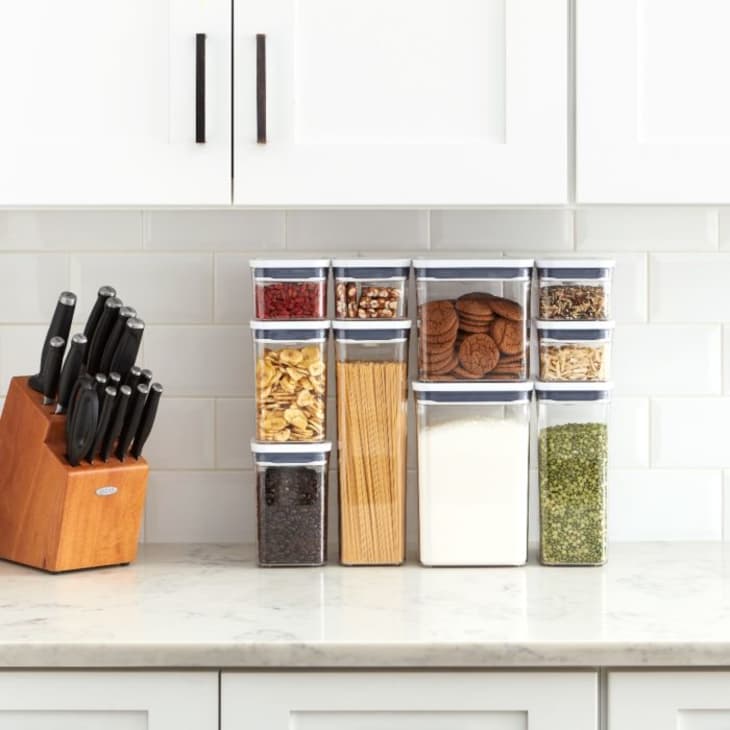 Pantry clutter is frustratingly easy to succumb to — and it leads to a lot of unnecessary headaches. A less-than-organized pantry is the biggest culprit of "lost" ingredients, which then become redundant ingredients when you go to the store and think you're buying a replacement (but are actually buying a duplicate). Clutter also likes to put a surprise pause on cooking by making you spend five minutes searching for that one crucial ingredient that you know is right around here somewhere … right?
Follow Topics for more like this
Follow for more stories like this
Thankfully, the right storage tools make it easy to organize your kitchen and keep it that way, and OXO is having a sale on some of their most popular POP Container organizers. Their durable construction and clean, simple design make them some of our favorite food storage pieces, and these big and small sets will whip your pantry into shape — no matter what state it's in now! Every container uses OXO's iconic push-button lid to make an airtight seal that keeps your pasta, flours, and dry goods fresh for a long time. They're also built to securely stack on top of each other and save precious shelf and counter space.
Depending on your organizing needs, go with one of these bundles in a five-piece, 10-piece, or 20-piece size. And, while these food-safe containers are built for your kitchen, they'll certainly tackle clutter from bathrooms, crafting supplies, and anywhere you have loose ends to tie up at home!
Pasta is too delicious to be kept in half-open packaging. Show off your favorite bucatini, linguine, or traditional spaghetti in the tall 2.3-quart container, which can be stored upright or on its side. The slightly shorter 1.7-quart model easily holds an entire 16-ounce bag of dried legumes or rice, and the two 1.1-quart sizes each fit a pound of coffee beans (or dog treats!). Whether you want a place to keep loose leaf tea, dried fruit, or a snackable amount of candy, the little 0.4-quart guy in this five-piece set definitely gets the job done.
Flours and sugars live their best lives in airtight containers, and the spacious 4.4-quart container was made to comfortably hold a 5-pound bag of either. It's so satisfying to be able to empty the entire contents of the bag and neatly organize your baking essentials like a pro. This 10-piece set also includes an ideal spaghetti storage solution and even roomier bins for dried beans, grains, and any other ingredients that need to be protected either from too much moisture or from going stale. The 2.8-quart container has a wider opening that makes for easy access to baked goods, and the pairs of 0.6-quart and 0.4-quart containers keep trail mixes, nuts, and granolas tasty and fresh.
Maybe you're ready to upgrade all of your ingredients' living situations, or maybe you just want to be prepared for whatever food organizing needs may arise. Either way, this expansive 20-piece set has you covered. It includes everything from the 10-piece set, plus different large, medium, and small pieces that come in handy for holding anything from jumbo boxes of cereal and snacks to bulk spices, popcorn, and so much more. Like every OXO POP Container, these have lots of practical details — including rounded corners to help with scooping and dispensing ingredients — that make them an Apartment Therapy favorite. And, whenever you need to clean them, you can pop the container and silicone gasket (which pops easily out of the lid) right in the dishwasher. Clutter, we think you've met your match!