Think Candles are a Generic Gift? These Personalized Candles Want to Change Your Mind
We independently select these products—if you buy from one of our links, we may earn a commission. All prices were accurate at the time of publishing.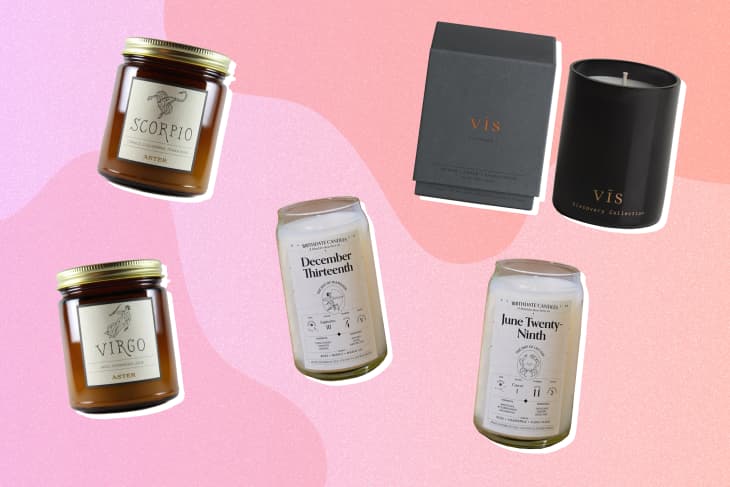 Now that the holidays have hit, you've probably noticed the custom-made candles promoted in gift guides for everyone on your shopping list—your astrology-obsessed sister, your hyper-energetic dog walker, even your middle child friend that needs one more joke about not being forgotten.
Follow Topics for more like this
Follow for more stories like this
Gone are the days that a candle is looked at as a last resort (cue that SNL skit). What used to be purchased out of desperate belatedness is now ordered well in advance, specifically chosen to suit a loved one's personality, aesthetic, and preferred smell (which, if you know this, major kudos). But if you think back a few years—nay, even one year—customized candles were not getting this kind of attention (kind of like middle children? Okay, done now). How did we get here, and what does it say about how our culture as a whole has changed?
This personalized candle trend comes as no surprise to the National Candle Association. They predicted the rise in January due to consumers' need for products that "convey meaningful experience and evoke specific feelings." Through the powerful combination of scent and color, candles provide this personalized element within the comfort of home—a place where more and more people are spending their time in as self-care has become increasingly popular.
A study conducted by the University of Toronto supports the strong connection between memory and olfaction that point to a "when" and "where" a smell was first experienced. "Our findings demonstrate for the first time how smells we've encountered in our lives are recreated in memory," Ph.D. candidate and author Afif Aqrabawi said in the study. "In other words, we've discovered how you are able to remember the smell of your grandma's apple pie when walking into her kitchen." This happens in the region of the brain called the anterior olfactory nucleus (AON), where space and time information connected to smell is stored.
This scientific understanding might contribute to why we gravitate toward certain smells, and how candles that explain their scented meaning makes us feel connected and comfortable. Farouk Babul and his partner Nick Rabuchin's love for candles led to making their soy versions out of a Crockpot in 2014, first giving them to friends and family as gifts but quickly realizing there's a market for customized candles. They picked the name Vancouver Candle Co. after the city they lived in, naming and scenting candles in their Neighborhood Collection after places that evoke certain memories for them and others.
"What was different about what we did was we developed fragrances that were inspired by the places we've lived in and explored," Babul said. "Our original collection was based on places that were really important to us."
Catherine Kwolek, the founder of Aster Candles, has experienced first-hand how special the consumer connection is to a candle. Kwolek has created an array of specialty candles, from an astrology line to a collection inspired by Rhode Island, and her customers resonate with the scents. "It's fun when people search for their own zodiac and say, oh okay, these are my favorite smells," Kwolek said. "I had a customer the other day who smelled her zodiac and said, you know I can't explain why but it reminds me of my childhood."
Both Babul and Kwolek agree that the recent self-care movement has contributed to consumers investing in special candles. This is directly related to people staying in instead of going out and investing in items that elevate their spaces. According to a recent study conducted by Mintel last year, three out of 10 younger millennials (24-31) prefer to have a drink at home versus going to a bar, which hints at the cultural switch to stay in.
Babul suggested another reason people are staying in more is that the cost of living has gone up, especially in the real estate market. "As the price of real estate gets more and more expensive, people tend to spend a bit more time at home, and it's the life's little luxury that you can appreciate and enjoy," Babul said. "I'm willing to cut out going out for dinner once a week or once a month, but I'm not willing to cut out certain items that make me feel at home."
Other factors have contributed to the popularity of personalized candles, such as the rise of companies like Etsy and the growth of social media platforms like Instagram, both of which have molded this trend to be what it is. Babul has noticed that candles, too, have become gender-neutral through consumers not necessarily noticing scents as masculine or feminine but rather picking what they jive with the most. "You are who you are and you can burn, wear, and do whatever you want."
So as you contemplate whether to go with the Dunkin coffee-scented candle or the zodiac candle that hones in on your personality traits, just take a moment to reflect on which candle you connect with the most. That, or just go with both of them, because self-care.