Here's How You Can Hang Plants in Your Rental Apartment and Still Get Your Security Deposit Back — I Promise!
We
independently
select these products—if you buy from one of our links, we may earn a commission. All prices were accurate at the time of publishing.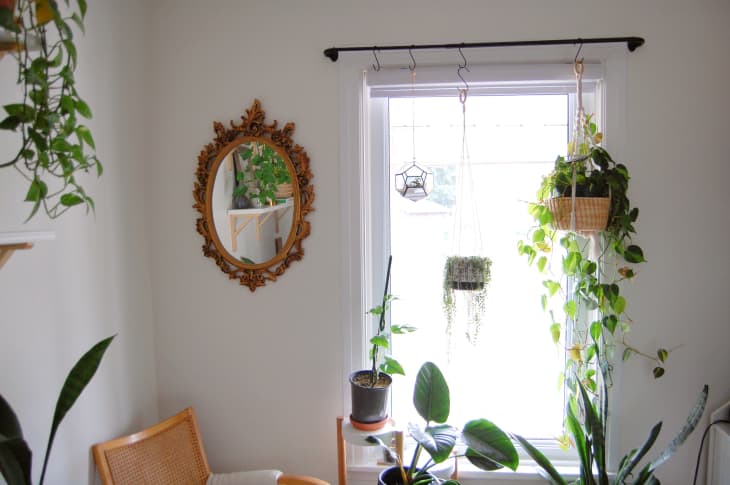 As an avid plant lover and collector, I'm always brainstorming new ways to display plants in my home, and one of my favorite ways involves utilizing hanging planters. I love that these pots get my plants off of the floors and surfaces in my space, and hanging planters add vertical interest to a room as well. However, hanging plants in a room can be tricky, particularly if you don't want put holes into your ceilings. This simple trick, which I discovered back when living in an apartment where drilling into the ceiling wasn't even an option, is one that I still utilize today, even now that I own a home. It's convenient, it's functional, and I think it's even pretty stylish. Plus, you likely already have what you need to make this work in your home, no extra shopping trip required! As it turns out, curtain rods are actually the perfect solution for hanging plants in a room.
Curtain rods are sturdy, and your plants will love being so close to the window. All you need are some S-hooks and you can quickly and easily add any hanging planter to your curtain rod. Admittedly, I've even installed curtain rods purely for the purpose of hanging plants — no curtains ever made it on to the rod (hello, "living curtains" — am I right?). If you are more committed to having curtains than I am and don't want to sacrifice a functional curtain rod to your plant collection, simply use a double rod to get the best of both worlds. Use the inside rod for your plants, and the outside rod for your curtains as usual. 
If your landlord is a real stickler and installing a traditional curtain rod isn't even an option? Not a problem! A tension rod makes a fantastic alternative. Depending on the depth of your windows and the strength of the tension rod, you may need to choose smaller hanging plants if you go with this option, but it will still get the job done.