This Drill-Free $13 Organizer Stores Stemmed Glasses Without Cluttering Your Cabinets
We independently select these products—if you buy from one of our links, we may earn a commission. All prices were accurate at the time of publishing.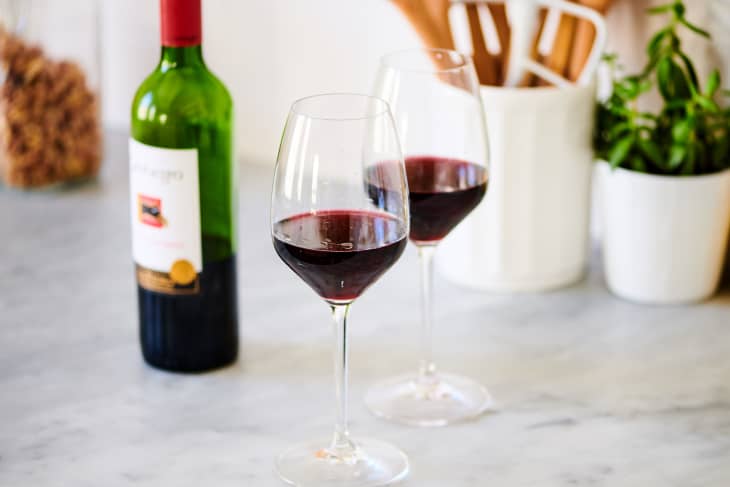 In recent years, stemless wine glasses appear to have risen in popularity, especially compared to their stemmed counterparts. It's not difficult to see why; not only do stemless tumblers look just as nice, but they're also much steadier on their bases and, as a result, less likely to be broken. If you ask me, though, classic wine and Champagne glasses are still the way to go. Sure, they're more fragile, but it feels just a tad fancier when you drink out of them, and who doesn't love that? (They also help you keep chilled wine chilled, since your hands won't heat up the glass.) Plus, they're easier to store! You can install an under-shelf rack and simply slide them on, whereas stemless beverage glasses can't be stored that way — nor can you usually stack them on top of one another.
Follow Topics for more like this
Follow for more stories like this
But, what if your home doesn't already have a built-in, under-cabinet rack for this exact purpose? Not to worry! We found an under-shelf wine glass holder on Amazon that's not only super affordable, but it's renter-friendly, to boot. Just imagine all of the cabinet space you're going to free up once you install a couple of these bad boys.
Unlike traditional wine glass racks, this $13 set doesn't need to be drilled in. Instead, each rack comes with adhesive strips on the back. Simply peel off the top layer, and stick the rack onto the underside of any cabinet. It'll stay securely in place, even as you load it up with your favorite drinkware. In addition to being super sturdy, each rack can also hold up to three glasses, so six in total. The plastic frame features a slim opening for you to slide the glasses through, but other than that, the bases will stay largely enclosed, making it impossible for them to slip off the racks. You can choose from four different rack styles — black, white, bamboo, and an industrial style — though their relatively flat design will mostly blend into the background of your kitchen.
What's more, Amazon shoppers agree that these racks are a great way to create storage space out of thin air. "I live in a 250 square foot studio apartment," one reviewer wrote. "This is a cute space-adding option if you don't have many places for knickknacks or everyday items. So far, it's working great for me." Another upside is that you're far less likely to break your glasses by hanging them on the racks. Instead of reaching into a cupboard to grab some and potentially knocking them over, you seamlessly retrieve one at a time. It's the small-space solution every wine-lover needs!