These Are the Things Second-Time Homebuyers Say New Buyers Shouldn't Stress About
We
independently
select these products—if you buy from one of our links, we may earn a commission. All prices were accurate at the time of publishing.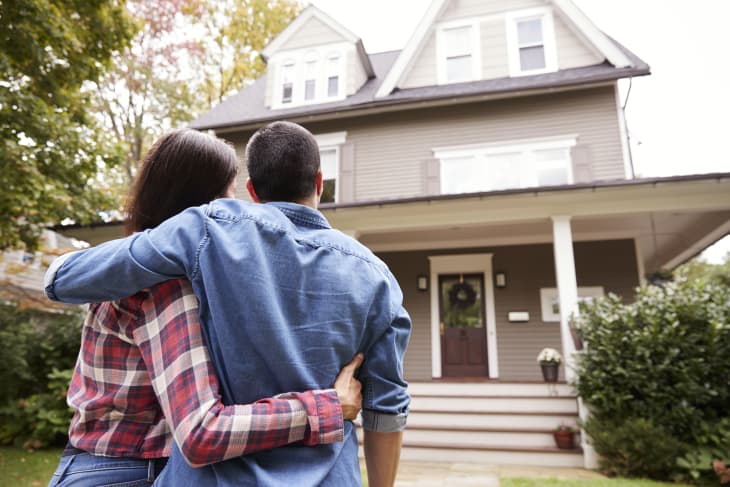 The emotional intensity of buying a home is like no other. Excitement, disappointment, stress, frustration, joy — it's all par for the course. Fortunately, second-time homebuyers have the advantage of navigating the housing market with experience on their side, which can give them greater confidence and a unique perspective on the homebuying process.
When buying a home for the second or third time, for example, you might learn that as long as you have the right floor plan in the right location, all the cosmetic features such as loud paint colors or a worn carpet can be changed or removed. 
Just ask Nathan and Sarah Brown, who bought their second home last year in the same neighborhood they already lived in. They were more concerned with the layout of the home instead of cosmetic finishes. Features like floor color and outdated appliances were not a big deal.
Sarah says you can always renovate the space you love to make it fit your lifestyle better. "Cosmetic things can be changed," she explains. "Look at the things that matter such as the home's structure and lot. Paint colors, rugs, and decor can change the entire look of the home at little cost."
Aside from more living space, sometimes the decision comes down to whether another home would fit your lifestyle better. Do you need a bigger yard for your dog so they're not cooped up all day? Is the home near a park and walking trails for you and your dog to have an active lifestyle?
"You also have to realize that you are not going to find the house that checks all of the boxes," says Nathan. "Be prepared to compromise and focus on the things most important to you. Things that you think are the most important when you are looking for your first home tend not to be the important things when looking for your second. Your life will continue to evolve. Your home choices will evolve as well."
One more thing, adds Nathan: "Don't worry about keeping up with the Joneses. It's easy to fall into that trap. Just focus on you, and you will be happy." 
Patience, discipline, and attention to detail are key to buying a home, says Donrich Young, who has owned multiple homes.
"People have often associated homebuying with opportune time periods centered around a healthy economy, stock market, and the like," he says. "As a result, many of us often hesitate to pursue homeownership until we think the timing is perfect. I think that sometimes it's important to trust yourself, your goals, your life plan and vision, relative to jumping into the market and purchasing that first home."
Young adds, "I've owned multiple homes, and the decisions to purchase have been financial, of course, but also decisions associated with quality of life. I've always enjoyed sharing my home with family and friends in addition to being a part of the community. The concept of making a house a home should not be undervalued."
Young and his wife have made several improvements to their home during the pandemic. "Our decision to upgrade last year was amazing," he says. "We actually did very well in the sale of our previous home, purchased our dream home, and within a short time, have gained substantial equity. Enjoy the process, trust the process, and understand the personal and financial upside to purchasing your first home."