Amazon Shoppers Are Comparing This Powerful Stick Vacuum to a Dyson — and It's on Sale for $85
We independently select these products—if you buy from one of our links, we may earn a commission. All prices were accurate at the time of publishing.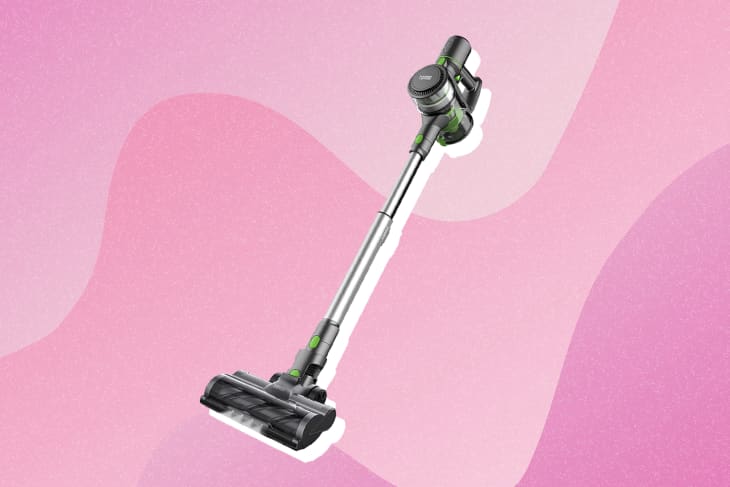 For lots of us, buying a vacuum can feel like a major life decision. And, in fact, a great vacuum can feel life-changing — at least when it comes to how clean your space stays! So it's no surprise that Amazon reviewers have strong opinions on vacuums, and there are a few that stand out as top favorites. The Toppin 6-in-1 Cordless Stick Vacuum is one of them. While it doesn't come from one of the biggest brands in the vacuum world, it has almost 1,000 five-star ratings, with many reviewers comparing it to a Dyson — just with a much lower price tag. Right now, you can get it for even less since it's on sale for just $99.99 (normally $129.99), which, according to its loyal fan base and rave reviews, makes it a definite contender to consider if you're looking for a new cordless stick vacuum.
"This is by far the best vacuum I have owned," says one reviewer. "I use it on a daily basis, multiple times a day. We have two fur babies and this vacuum sucks up pet hair effortlessly." And indeed, this vacuum has an especially powerful motor when compared with other cordless stick vacuums in this price range. It provides up to 12 kPa (kilopascal) of suction power, which is pretty impressive for a cordless stick vacuum at this price. Its wool and carbon fiber brush roll is designed to pick up hair without it getting all wrapped up, but it's still gentle on all types of hard floors.
The Toppin 6-in-1 is also notable for how lightweight and easy it is to use. One reviewer notes, "it is sooooo lightweight that my little kids can use it (adjusts to their size too)," which is actually very believable given that it only weighs 3.08 pounds. Since it can also easily be converted to a handheld and comes with multiple attachments (yes, just like a Dyson), it's especially great for vacuuming blinds, stairs, and window treatments. Even Dyson fans love it: "I own two large Dysons and was looking for something lightweight to help me clean up crumbs after meals and hairs and dirt that my hubby, toddler, and dog track in all day long. This is like my magical electric broom. I love it!"
There are also some practical features that could give pricier cordless stick vacuums a run for their money. It has a bright LED light on the main cleaning head, which doesn't seem like a big deal at first, but many reviewers love that it helps you really tell that you're getting the job done. It's also super easy to maneuver. "This thing is a jewel! The arm comes all the way down flat and the end is not so bulky that I can literally get under furniture that I've been having to move for years for vacuuming," one reviewer says. "I also love how easily the end of the vacuum swivels to maneuver in and out of tighter areas." Plus, it comes with a charging wall mount, so you can easily store it in an unused nook in a closet or laundry room.
When it comes to battery life, the Toppin 6-in-1 also doesn't disappoint. It has a run time of 35 minutes, and the battery fully recharges in just four hours. According to one reviewer, "I can vacuum all of the first floor, the stairwell, and the second floor and there is still charge on the battery." So if you have a small space, this could very well be the only vacuum you need. The battery is also detachable, so you can charge it separately or buy a spare battery to keep the vacuum fully charged for longer cleaning sprees in larger spaces. Whether you're considering the Toppin 6-in-1 Cordless Stick Vacuum as your primary vacuum or a lightweight secondary option, consider taking one reviewer's advice and "get one, you will not be disappointed!"

Buy: Toppin 6-in-1 Cordless Stick Vacuum, $84.82 (normally $129.99)