Vanessa Hudgens Makes the Case for a Goth-Inspired Black Bathroom
We independently select these products—if you buy from one of our links, we may earn a commission. All prices were accurate at the time of publishing.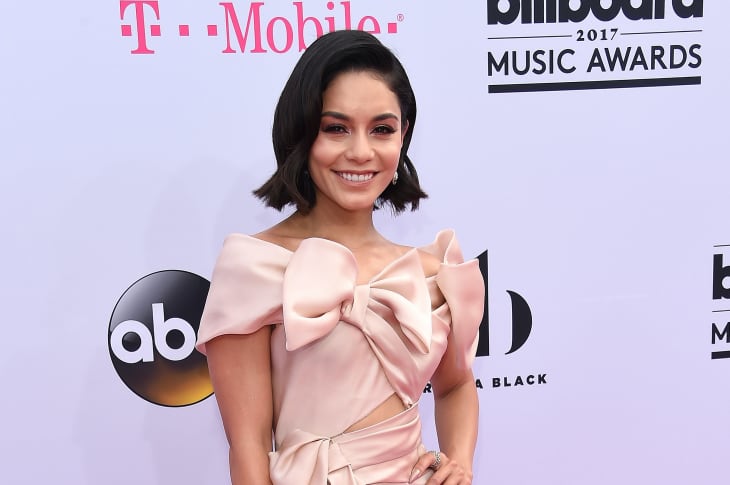 As an actress, Vanessa Hudgens is often on the go, but when it's time to head home, she kicks her feet up in a 1922 Georgian colonial located in Los Feliz, a charming hillside neighborhood adjacent to the glitzy Hollywood Hills.
In a recent home tour for Architectural Digest, the Disney alum took fans through the lush sanctuary with so much color and brightness, she noted that it reminded her of being transported to the European countryside, with its ample greenery and olive trees. But one facet of the home stands in stark contrast to that airy vibe: the goth-inspired black bathroom, which Hudgens calls "a sexy cave."
The most unexpected part of her home is the dramatic main bathroom, which Hudgens shared she enlisted interior designer Jake Arnold to help her perfect — mission critical, given that the first task on Hudgens' to-do list every time she's back in L.A. is to hop into the bath.

"Jake came with a couple of suggestions for the primary bed and bath, but for some reason, I gravitated towards the cave vibe," she said. "I fell in love with the idea of sitting in this deep, ceramic bathtub with the windows open, hearing the French music outside waft up through the windows, watching the candlesticks burn."
The pair's remodel was no easy feat. "The bathroom had to be moved, we had to knock down walls. I wanted to make sure that what I was doing would add to the history," Hudgens said. "I think there's a beauty to homes that have been passed down, that have marks from previous residents."
Along with marble sinks that match her bedside tables and deep slate tiles that were leftover from her kitchen remodel, the black walls, black cabinets, and brass finishes perfectly tie Hudgens' old Hollywood feel in while still allowing the room to stand out from the rest of the house. It's no wonder Hudgens enjoys slipping into the egg-shaped ceramic tub any chance she gets.
As for the rest of the home, Hudgens incorporated lots of "soft femme colors" throughout it, including a vintage pink mohair sofa, a Richard Avedon portrait of Marilyn Monroe against wallpaper with pink palm leaves in the powder room, and soft velvet orange curtains in her bedroom. "I wanted the house to be super feminine, to celebrate women's bodies, to be a kind of femme palace," she shared.
Hudgens tells the magazine she spent five years searching until she found the home, which was built by director Cecile B. DeMille, reportedly as a crash pad for his mistress. "There were so many things about it that struck me," she said. "Walking through the gate and seeing this house covered in ivy, surrounded by olive trees, it was like I had been transported to France or Italy. It felt like such an escape."
Check out the full video tour of Hudgens' history-rich home here.