"Micro Apartments" Are the Trendiest New Spaces to Rent
We
independently
select these products—if you buy from one of our links, we may earn a commission. All prices were accurate at the time of publishing.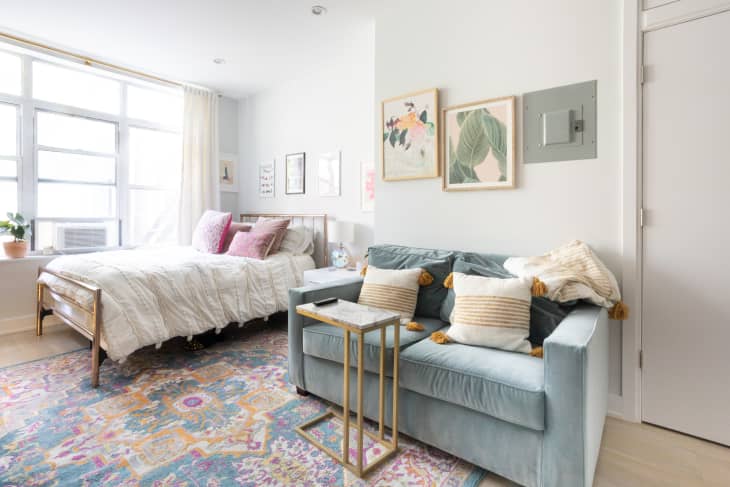 You've heard about tiny houses, camper vans, shipping containers, and other creative small living arrangements. But what about micro apartments?

As you're searching for a new place to live — especially in a big city — you may come across listings for these diminutive units. If you're curious about what life would be like living in a teeny-tiny space, here's what you need to know about micro apartments. 
What is a micro apartment?
Micro apartments are exactly what they sound like: ultra-small rentals. They're typically set up like studios, with an open-concept floor plan. But they can also be subdivided into smaller private spaces.

In an ideal world, they're laid out in a way that maximizes efficiency "so you can do the most in the least amount of space," says Modern Spaces real estate agent and broker Arlinda Dine.
"They sometimes use designs that allow the space to have multiple uses, or custom or built-in features or smart tech to make the space more livable and optimal," she adds.

For example, a Murphy bed might fold down from the wall or a table might slide out from under the couch.
How big is a micro apartment?
It depends on who you ask, but real estate professionals generally define a micro apartment as a living space that's no bigger than 400 square feet. Some may be even tinier than that.

"When I think of a micro apartment, I think of what my sister used to live in: 250 square feet, with a bed hidden behind a curtain and her table folding up against the wall," says real estate agent Michael Weiner.
Is renting a micro apartment right for you? 
As you probably guessed, micro apartments aren't for everyone. They have some distinct drawbacks that may be hard for some people to overlook, while other people may thrive in this environment. It just boils down to your priorities and your lifestyle.
Here's what to consider before you rent a micro apartment.

You can't have a lot of stuff. There just isn't room for a lot of furniture or belongings in a micro apartment — that means clothes, collections, or hobbies and sports that require a lot of equipment, says real estate broker Gerard Splendore. 

If you're a fashionista, a baseball card collector, or a kayaker, this probably isn't an ideal living arrangement for you. But if you're a minimalist anyway, a micro apartment could be a natural fit.
You can't entertain as comfortably. Yes, technically, you could still have people over for dinner. But it might be a tight squeeze. 

"When your dining room is also your bedroom, it's difficult to have guests come over," says real estate agent Ryan Waller. 

If you love to entertain at home, you might want to consider a slightly bigger space. But if you're more of an introvert or you prefer to go out to socialize, then a micro apartment could be your sanctuary.
You probably can't have pets. It depends on the animal, of course, but a rambunctious or oversized pet could easily wreak havoc on such a small space, says Splendore. (Although, the same could be said for a more standard-sized apartment, too.)
Your guests might have to stay at a nearby hotel. Family coming into town? There likely isn't anywhere for you to put them up in your apartment. That might not be a dealbreaker for you — and, in fact, it might be your preference — but it is something to consider if you live far from friends and family, Splendore says.
You probably need to be single. People with kids, roommates, and even romantic couples may have a hard time sharing a micro apartment, so it's probably best if you're flying solo. In fact, a micro apartment might offer you a much-needed chance to break away from always living with roommates.
You'll likely save some money. It really depends where you're looking, of course, but prices tend to increase as square footage increases. So, in theory, the smaller the space, the cheaper the rent. 

"You might be able to live in an area or neighborhood that you can't normally afford," says Dine.

If you're just starting out, you won't need to buy as much furniture or decor to fill the space, either, which can offer even more savings, says Weiner.
And you might be able to bring in a little extra money. Micro apartments make great short-term rentals on platforms like Airbnb, as they're typically located in desirable urban areas, says Waller. So, in addition to helping you save money, they might also help you make some extra cash.
You might make new friends. Many micro apartment complexes have large community gathering spaces and other shared amenities. And because people don't have as much room to spread out in their individual units, they tend to congregate in these areas. This can help create a more social environment, says Dine. 
You'll spend less time cleaning. A smaller footprint means you'll spend less time vacuuming, mopping, dusting, washing, and scrubbing, says Weiner. That frees up your time and energy for other tasks, including work, hobbies, socializing, and traveling.

"The best part of living in a small space is the reduced time and effort needed to take care of it," Weiner says. 
Considering a micro apartment? Do this first.
If you think you might like to live in a micro apartment, Waller recommends these two practical steps to help determine if it's right for you. 

First, review your day-to-day activities over the last 60 days. How much time did you spend at home? How often did you have people over? Did you have friends or family members stay with you?

Second, consider doing a test run. Find a micro apartment on Airbnb or a similar platform, and try renting it out for a few days or weeks. This will give you first-hand experience to see how you feel living in more cramped quarters, he says.