This Collapsible Mop Kit Cut My Bathroom Cleaning Time in Half (It's Perfect for Small Spaces)
Apartment Therapy received compensation for this post, which was written and edited independently by our editorial team.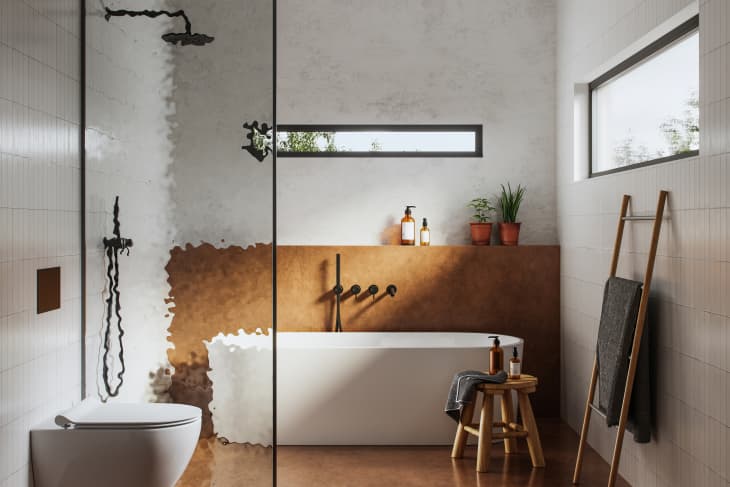 I recently saw a TikToker venting about the fact that no matter how often she cleans her pre-war New York City rental, it's never not dusty — which I absolutely (and unfortunately) couldn't relate to more. Don't get me wrong, I love my Brooklyn apartment and wouldn't trade my current living situation for the world, but my building's old-school charm also comes with I-literally-just-cleaned-this-hours-ago-how-is-it-already-dirty kind of maintenance.
The main problem area? My bathroom. It's small, window- and fan-less, and has certain longstanding grime baked into the sink and door frame crevices, which I've just come to accept will never, ever be fully 100 percent clean. I'll spare you too many more dingy details, but it's the space I dread cleaning most because it just feels hopeless — as soon as I do my Swiffer, Clorox wipe, Windex, duster, and tub scrub routine, you'd hardly even notice I put in the work. Much to my surprise, though, I recently tried Don Aslett's cleaning kit from QVC, and my bathroom, for once, actually looks and feels practically pristine, in about half the time of my regular chores regimen.
This kit features a 4-foot adjustable rod with three interchangeable heads — a standard mop, bristled brush, and small scrub pad — plus a grout brush, three cloths, and a blue handled bucket to store everything. The latter fully collapses to save space, and each piece actually fits inside perfectly like so, but even fully unfolded it's relatively compact for storing under the kitchen sink or on a closet floor. In fact, I'm planning to convert mine into an all-encompassing cleaning supply bucket, since there's plenty of room for extra products and tools.
That's what I love about this QVC find overall: everything I need stays organized in one convenient place — and I mean everything. While deep cleaning my bathroom (to the best of my abilities), I put each included component to use in some capacity, from the microfiber cloth for dusting my bathroom shelves to the grout brush for getting behind my sink's faucet.
The mop, though, has been the ultimate multi-use game-changer. Rather than getting on my hands and knees to wash my tub and shower tiles, I attached the scrub pad and bristle brush to tackle tough-to-reach spots and cover dirty territory while standing upright — all way faster than a handheld brush or paper towel, to boot. The same went for mopping my bathroom floor with the standard pad: it's pretty sizable, but could cover tight corners and behind-the-toilet angles that my Swiffer never reached previously.
For just $41.98, you essentially get seven tools, an easily-transportable storage bucket, and an all-around cleaner space — win-win-win. I have yet to use this all-inclusive kit beyond my bathroom, but I can't wait to implement it throughout the rest of my apartment and forever cut down on tidying-up time. Act fast while this is still in stock!