This 6-Piece Organizer Set Will Quickly Tidy Up Your Entire Fridge (It's Under $40!)
We
independently
select these products—if you buy from one of our links, we may earn a commission. All prices were accurate at the time of publishing.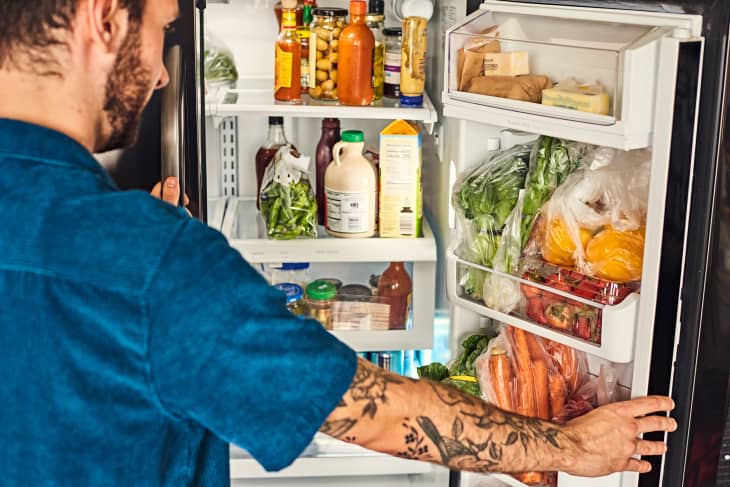 Loyal AT readers know that our editors have plenty of fridge organizer recs to dole out — many of them in the form of acrylic bins. Whether you need a container for frozen dinners, a rolling caddy for jams and yogurts, or something to keep your canned beverages in order, we've got you covered. The only downside to accumulating such organizers is that it can be difficult to determine what you need or whether everything will fit together on your cramped fridge shelves. It might be best, then, to buy a set and get the searching out of the way. If there's one do-it-all pack of bins we suggest stocking up on, it's the Greenco six-piece refrigerator organizer bin set from Amazon. This buy ensures that you get a container for pretty much every type of grocery you store in the fridge. (Plus, at under $40, it's quite affordable.) Once you employ these handy storage staples, you can say goodbye to cluttered shelves once and for all.
In looking at what all the set comes with, you'll be happy to learn that you get one holder for canned drinks, one egg holder, two narrow trays that are perfect for bottled and jarred goods, and two wide trays for produce, meat, and really anything that might not fit in the other caddies. In addition to keeping groceries upright and separated into easily accessible sections, the great thing about these bins is that they're made of durable, shatter-proof plastic. In other words, they'll basically last you a lifetime.
The bins have, unsurprisingly, more than 6,000 five-star ratings on Amazon, with shoppers praising the bins' transparent design and versatility. "I've saved money in the two weeks I've had these because nothing in my fridge has gone to waste," one reviewer wrote. "I can see everything clearly. It also helps with clean up should any spillage occur."
Reviewers also noted that you don't have to have a large fridge by any means to store these bins. If anything, they're great at maximizing what little space you do have. Of course, you can also grab a set for your pantry, or perhaps other rooms of the house, like the bathroom. Keep toilet paper rolls, shower products, and cosmetics neatly squared away yet within easy reach. No matter where you decide to place these brilliant bins, your home will be all the more tidy and organized as a result.