From the Straps to the Soles — Here's How to Clean Birkenstocks
We independently select these products—if you buy from one of our links, we may earn a commission. All prices were accurate at the time of publishing.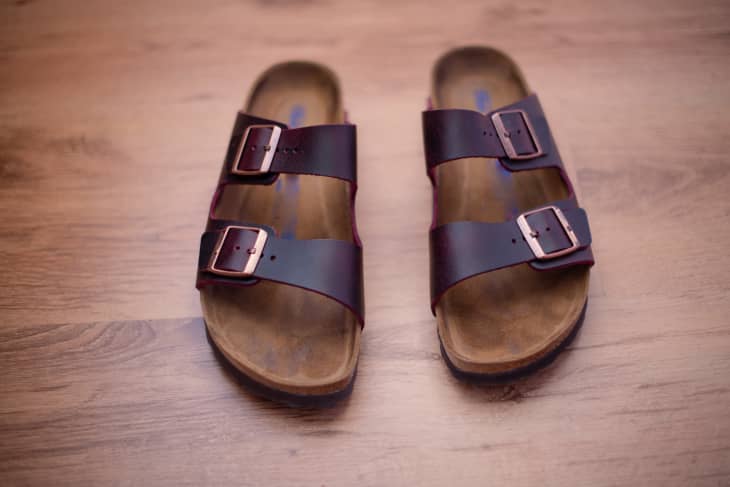 If you've ever come to my place, you know I love my Birkenstocks, which I wear daily as my house shoes (and often with socks). But after many wears and uses, the time has finally come to give them a really good clean. 
I spoke with a representative at Birkenstock who said that the most important part of keeping your Birkenstocks clean is making sure that you're properly maintaining them. This includes keeping them away from heat — don't leave them in a hot car or out in the backyard — so that they don't shrink, and never submerging them in water or leaving them on the porch to get rained on. This will make them more likely to get damaged and worn out over time, so you'll be unable to be clean and maintain them on your own. 
 Here's how to take care of your favorite German sandals. 
Shoe brush or old toothbrush
Microfiber cloth
Eraser
Baby powder or cornstarch
Vinegar
Laundry detergent
Stain remover
Bowl
Blunt knife
Commercial shoe polish and conditioner
Glass cleaner
Petroleum jelly
How to clean Birkenstocks
Since Birkenstocks cannot be submerged in water, it's not recommended that you wash them directly. Instead, use a variety of tools and tricks to spot clean it based on the type of stain and material of the shoe. Here's how to clean the different parts of your Birkenstocks.
Suede straps are "very delicate," so proceed with caution. Make sure to brush away soil, dirt, and leaves with a toothbrush or microfiber cloth so that it doesn't get caked on and cause wear.
If the suede straps get wet or stained with something like food, try not to rub or wipe it. Use the microfiber cloth to blot as much as you can, then let it dry. Once dry, use a brush or eraser to lift as much of the stain out of the suede as you can. If the stain is oil-based, use cornstarch or baby powder to immediately absorb the oil. Leave it on for as long as possible until it appears dry. Then brush or erase the stain away. 
If you get something sticky like gum on it, try freezing it. Put an ice cube on the sticky stain until it's hard and then use a butter knife to try to pick off the sticky stain. You may need to finish with the eraser or brush. 
If you have leather straps
If your Birkenstocks have patent or natural leather straps, you will clean them slightly differently than if they are the classic suede. Use a slightly damp cloth to wipe away dirt or markings after wearing. Glass cleaner or petroleum jelly can brighten up any luster that doesn't return from simple wiping. To polish and condition the leather, you'll need to find a matching commercial shoe polish and conditioner and use it according to the package directions. 
If your Birkenstocks have fabric uppers, they may be made of linen, wool, or microfiber. Like with suede, use a brush or cloth to remove dirt. Then, you'll want to spot clean any remaining stains. Make a solution of two cups of warm water and one-half teaspoon of laundry detergent. Using a microfiber cloth, gently rub stains with this solution. You can also use a commercial-grade laundry stain remover for tougher stains. Rinse by dipping a clean cloth in plain water and removing the soap. Blot with a dry towel and let it air dry. You may want to stuff the shoes with a small dry towel to help them hold their shape while drying.
Classic Birkenstocks have cork soles. You'll want to make a mild cleaning solution of two cups of warm water, one-half teaspoon of laundry detergent, and two tablespoons of distilled white vinegar. Dip your toothbrush in this solution and then scrub the cork with the toothbrush. Wipe the cork with a microfiber cloth dipped in plain warm water. Then let it air dry. 
If the cork is beginning to look dry, it may crack, but you can purchase sealant to repair it. Caring for your Birkenstocks before they begin to show obvious signs of wear and tear will have them looking new, help you get the most out of your investment, and keep you in your comfortable shoes for years to come.