This Gorgeous Rug Is So Durable That It Can Survive a Chocolate Cake Spill
We
independently
select these products—if you buy from one of our links, we may earn a commission. All prices were accurate at the time of publishing.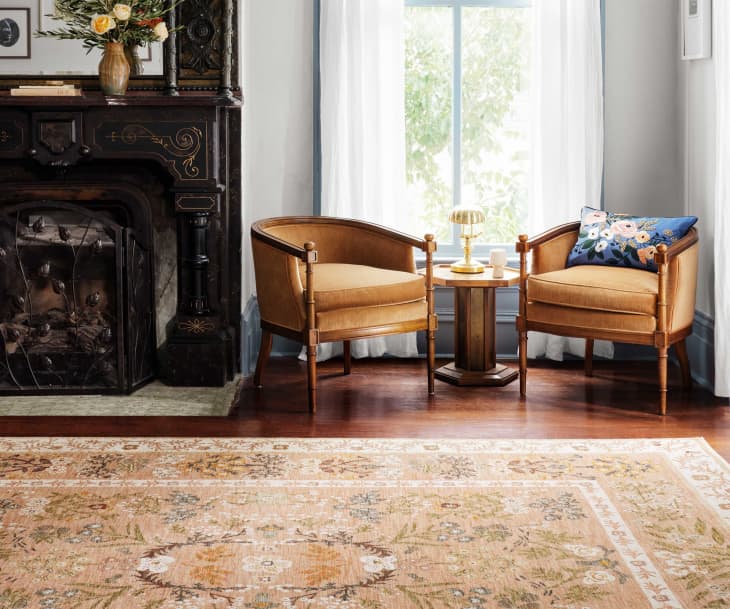 Finding a quality (let alone gorgeous) area rug for a reasonable price these days is not so easy. And I'll be the first to admit, like with most things in my home, when it comes to rug-shopping, my taste doesn't quite match my budget. I've spent so many hours virtually hunting for a rug that satisfies both requirements. But I was far past due in getting rid of the old hand-me-down rug in my bedroom, so perusing the internet was necessary! I've been spending an absurd amount of energy poking around online (with some help of my AT coworkers!) for the perfect find — you know the one that both my heart and bank account love — when I remembered that Rifle Paper Co., one of my favorite etailers, has a gorgeous rug collection. Based off the quality of the rest of their goods, I figured it was a safe bet that this would be one top-notch rug.
The rug arrived in a compact cylinder, ready for unraveling. As I unrolled it, I'll admit, it seemed thinner than I expected. After all, I figured, the 5′ x 7'9″ was $420… made sense. But once it was all set out, and placed evenly underneath my bed, I was surprised. Shocked, even. The power-loomed rug felt lush, so soft against the soles of my feet, and somehow much thicker than I knew it to actually be. It almost felt as though there was some cushioning beneath it. Which is actually astounding, considering I don't have a rug pad (and guess what? The rug's cotton backing hasn't budged a centimeter without one). In my book, I'd call that a win-win; a super low pile rug (at a relatively affordable price point!) with the feel of something much more expensive. The kicker? It hasn't shed, not even a single thread.
The pattern, which is absolutely stunning, is a fusion of the signature Rifle hand-painted design and a nod to more traditional rugs, like the ones that covered the floors of my grandparents' house growing up. The result of this modern take on well-known patterns is subtle, elegant, and versatile. In fact, even though the rug is new to my apartment, somehow it looks like its always belonged, even when I change up my bedding or rearrange the room's plant-family.
Also, I couldn't be more excited about how easy this rug is to clean. A simple run-over with my vacuum, and the polypropylene and polyester weave looks as good as new. Plus, just the other day, my boyfriend (whose WFH office is set up in our bedroom) unknowingly dropped, and then stepped in, a bit of chocolate cake — because, in my house, yes, we do eat cake for lunch — and smeared the frosting into the rug. All it took was a wet cloth, a moment of scrubbing, and you can't even tell! Don't worry, I made him do the clean up.
I picked the Arabesque Camel, but there are loads of other rugs to choose from (some even on sale!). Rifle has power-loomed, printed, or wool-hooked, each style with a plethora of pattern options. Most of the rugs range from a small, throw size (2′ x 3′ or so) to an area rug large enough to cover even the largest of rooms (this one goes up to 9'3″ x 12'6″!), so no matter what space, in what room of the house, you're looking to add a bit of graceful flair to, I'm certain you'll find it.
This rug has got it all: the looks, the easy-to-clean factor, and, of course, the feel. You might even catch me having a quick cat nap on top of it, although my bed is right there — it's just that soft. And for the pricepoint, I think I'd be hard-pressed to find another rug of this caliber. In fact, I might just go ahead and order another for my dining room. After all, I know it could withstand all the dropped food that goes on in that room!