The Free, Unexpected Perk of Visiting The Dyson Demo Store in Person
We
independently
select these products—if you buy from one of our links, we may earn a commission. All prices were accurate at the time of publishing.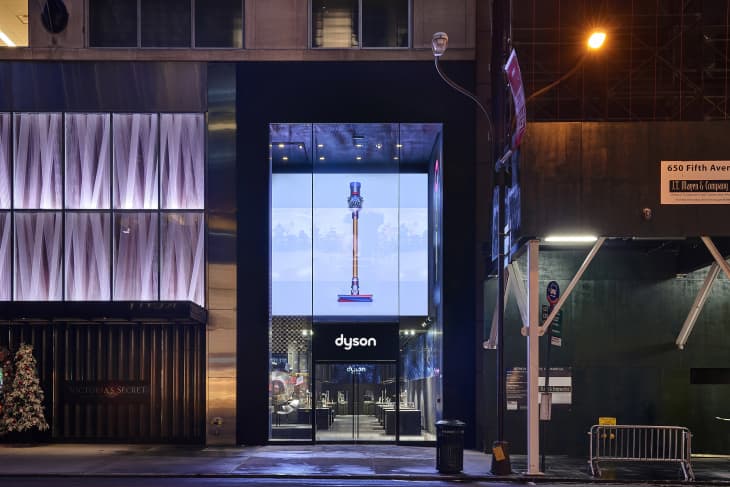 There's no arguing that Dyson products are an investment—that's why their Black Friday deals are highly coveted. The brand clearly puts a lot of research and development into what they do, so you're going to pay a pretty penny for that slick Dyson engineering. I'm a firm believer that you should try anything that expensive before you buy it. That said, here comes the perk: If you find yourself traveling near a city that has a Dyson Demo Store this holiday season and beyond, you'll get the chance to try whatever new product you've been eyeing in person. And you can also be trained on how to use the Supersonic, Instagram's favorite hair dryer, and its sister product, the Airwrap styler, by a professional stylist. Which means, if you've read between the lines here: Yes, you (or your mom or whoever else) can get a free blowout—wash and all—just for being interested in purchasing a Dyson haircare tool. All you have to do is call the store you're planning on visiting for an appointment. 
Dyson Demo Stores actually have mini salons in the back of them, manned by professional stylists who know as much about hair care as they do about VOCs like formaldehyde—and how small a filter has to be to remove this icky substance from the indoor air in your home. There's a wash basin for shampooing, since the tools perform best on damp hair, and a few workstations where you can get your hair done and basically star in your own YouTube tutorial.
I popped into the New York store this week and was legit impressed by how much interacting you could do with all of the latest launches from the past few years. Another high point? Seeing a full wall of "messes" ready to be made—little vials of 30 different types of debris, ranging from sequins to pasta and Cheerios, all just waiting to be dumped on different kinds of flooring and vacuumed up.
You can also personalize the hair care cases with embossed initials on site and pick exclusive wand colors for the vacuums, which makes these items very giftable splurges, especially if you truly are a Dyson super fan and want a "custom" piece.
The biggest bummer is that there aren't more Demo Stores, which are still a relatively new concept that the brand is hoping to continue expanding. If you can't make a shopping pilgrimage before one opens near you, then maybe your try before you buy is taking advantage of Dyson's relatively generous return policy—a 30-day money-back guarantee on most products with free return shipping.