I Tried The Viral Toothpaste-Squeezers from TikTok So You Don't Have To
We
independently
select these products—if you buy from one of our links, we may earn a commission. All prices were accurate at the time of publishing.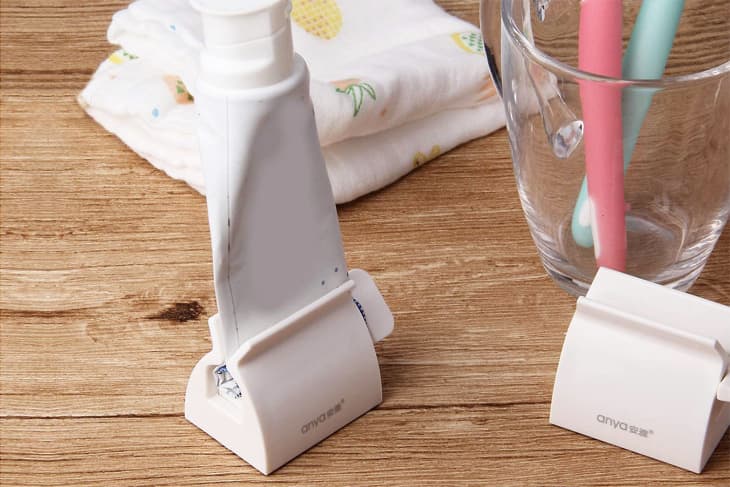 Some of the biggest problems in my household start with toothpaste. And by that I mean, I've been known to twist the almost-empty toothpaste tube to scrounge out enough for my nightly brush, then leave the wrangled tube as-is on the counter for my husband to find the next morning. He doesn't like it. (I see my ingenuity as messy but useful.)
In the TikTok, it looks like grabbing your toothpaste is as easy (and clean!) as taking the cap off and swiping your toothbrush over the opening. Life-changing, right? Well, not for me.
I was admittedly enamored by the mechanics of the dispenser. It neatly rolls the empty part of the tube, pushing all the toothpaste left to the top of the tube as you crank the handle. For anyone looking for a neater way than twisting or folding toothpaste tubes, this is definitely appealing. I can imagine squeezing the last bit of toothpaste out could prevent waste and save money — except for all the toothpaste you lose in the process. 
The trouble for me came when I tried to get the toothpaste after turning the handle (which I guess is a pretty big problem). When you dispense your toothpaste, you have to turn the handle a bit to dispense it, then drag your bristles across the hole before the toothpaste either goes back in or falls off.
Without fail, almost every single time I went to brush my teeth, toothpaste ended up on either the tube or the counter. I used this dispenser twice a day for a few weeks, and I never found an easy (read: neat) way to dispense the toothpaste without making a mess. Another complaint: It's a lot harder to be as precise as holding the tube in your hand and squeezing it out. Maybe I'm just fussy, but I feel like I ended up using more toothpaste than necessary every time. I definitely didn't save money. 
I'm wondering if my gel toothpaste was too thin in consistency (my bathroom gets pretty warm). I'd be interested in trying the dispensers again with a thicker paste, or perhaps a cooler bathroom. But for now, I'm happy to keep up my normal tooth brushing habits — though I can't say anyone in my household will be.