This 3-in-1 Stick Vacuum Is Powerful Enough to Handle Pet Hair — and It's Just $45
We independently select these products—if you buy from one of our links, we may earn a commission. All prices were accurate at the time of publishing.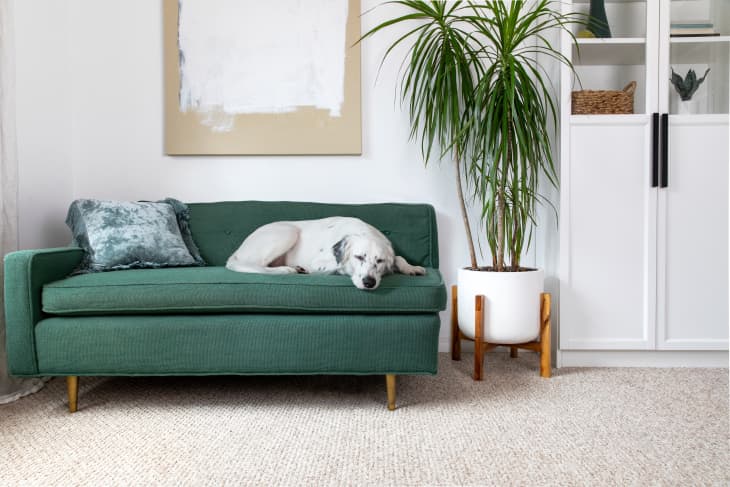 When I decided to become the owner of a small dog, my choice in breed and fur coloring was a strategic one. I wanted him to be white so that even when he got old, it wouldn't be super obvious. What I failed to consider is that even though my Pom is little, his long hair sheds like crazy, and white definitely stands out against brown couches and rugs and burgundy throw pillows. Suffice to say, a powerful vacuum and plenty of lint rollers are essentials in my household. I'm sure other pet owners can agree that although slim, lightweight stick vacuums are nice in theory, a lot of them don't hold up as well as one would like against stubborn fur fallout.
The good news is that there is an increasing number of floor and furniture cleaners on the market that are specifically designed for homes with dogs, cats, and other long-haired loved ones. And we think we've found one that'll impress you with its functionality and its price tag. Now, you can snag the Dirt Devil 3-in-1 corded stick vacuum for just $45 at Bed Bath & Beyond.
Follow Topics for more like this
Follow for more stories like this
This mean cleaning machine is, in fact, slim and lightweight, but it still picks up dirt and dust like a dream — just ask previous customers. "I wasn't sure about it first," one reviewer shared. "Seemed a little too lightweight to be powerful. I was wrong! When I emptied it, I was amazed at how much pet hair it picked up!!!" The vacuum works on virtually every type of surface, from carpet to tile to wood, though its brush-roll feature is especially effective on soft floors and even upholstery. And regardless of how much hair and grime it picks up, the Dirt Devil 3-in-1 empties quickly and completely mess-free.
Because this cleaner is so easily portable, it can cover every inch of the house. Even stairs and ceiling corners won't be a problem thanks to the 3-in-1's detachable handle and crevice tool. "Prior to trying my new Dirt Devil 3-in-1, I had a regular canister style vacuum," a shopper wrote. "This 3-in-1 is SO much lighter and more maneuverable; my 6- and 8-year-old have used it to vacuum their bedrooms, to clean up small messes around the house on our laminate, and mostly to clean up after our Husky-Shepherd mix." Indeed, this vacuum works well for deep-clean days and quick pick-ups alike. And don't skip the sofa; fabric-covered furniture can also get a touch-up.
When you combine the 3-in-1's easy maneuverability, lightweight construction, and fur-busting function, it's hard to believe that you can acquire it for such a low price. In this case, however, the deal is not too good to be true!