I'm a Mom of 4 Kids and This is How I Keep All Our Bedding Organized in Just One Small Linen Closet
We independently select these products—if you buy from one of our links, we may earn a commission. All prices were accurate at the time of publishing.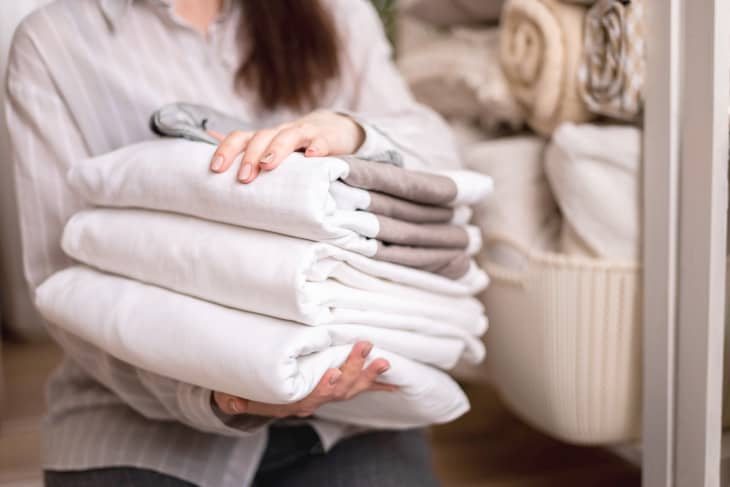 I'll do a load of dishes or combat a mountain of laundry like nobody's business. But if you asked me a month ago to change someone's bedding, I'd procrastinate. I'd whine about it or even convince my husband to do it. I realized the underlying stressor came not from the act of changing the bed, but from my insanely overstuffed and disorganized linen closet.
How could such a small and seemingly insignificant space create so much mental and physical clutter? Easy: I have four boys under the age of 7, and most of them have different-sized beds — from tiny crib sheets to a queen-sized mattress, kindly donated by a relative for our preschooler who kept rolling out of his toddler bed.
Here's how I changed that in just one afternoon, and now don't mind changing a bed, even after a middle-of-the-night accident.
Taking inventory of the chaos
The first step was figuring out just what these random items were that kept falling out of my linen closet whenever I dared to open it. During my youngest's nap time I pulled everything out and made a linen mountain on the floor. Sheets from wedding presents a decade ago, toddler bedding from beds we hadn't owned in five years, curtains my grandma made that I couldn't give away, and random throw pillows I regretted buying piled up. I didn't realize how many types of "other" things I needed to purge from my linen closet. What I really needed was much less: two sets of king sheets, two sets of queen sheets, three sets of full sheets, and two crib sheets, plus pee-proof liners for each. So, I hit up my local Buy Nothing page to promptly remove most of the excess bedding, which fellow members were glad to help with.
Choosing bins for the remaining small space
Our linen closet could barely hold a toddler playing hide and seek, yet I was determined to find bins that would maximize the space I did have to hold all of these types of bedding. I removed any towels that had made their way into the closet, storing them now where they are most needed. Kids' towels were relocated to their bathroom and beach towels to the laundry room for pool time. Then I headed to my local discount store, and when that didn't work, I looked on Amazon to find bins of particular dimensions, as it's a pretty shallow closet. 
I found cute bins (I specifically wanted a black and white design with brown leather handles) but discovered that they were flimsy and didn't allow for much room to get items past the top without pulling everything out — not convenient at all. So, I purchased some generic containers from Walmart and things started to progress. I removed all the lids for optimal clearance and easy sheet moving in the middle of the night.
Jessica Litman, CEO and founder of The Organized Mama, says that bins are essential for linen closets. "When you have multiple beds in the house, I totally suggest putting the linens for the beds in bins either in the closet of the bedroom the linens go to or in separate bins for each size bed you have." She also recommends grouping like items together, which will help eliminate overstocking because there's only so much room in each bin. I found this to be true, and helpful, in the purging and organizing process.
While the final organization system was far from the Insta-perfect linen closet I had in mind, it's the most functional to use on a day-to-day basis (plus, seriously, who's looking in my linen closet except me?). I labeled the thin but sturdy clear bins "King, Queen, Full, Liners, and Crib." I debated separating liners by each bed size, and might still do that, but found that many of them actually work on other sized beds in a pinch, including a few I have that lay overtop any bed without having to be a specific size. Each bedding set is inside one of the pillowcases for easy access, and so that I never have to attempt folding a fitted sheet again.
My very regular-looking closet (complete with one label in purple because that's the only Sharpie I could find) is now a place I'm proud of. It helps with organization instead of adding stress during sometimes stressful times, like when a kid has puked, peed, or slept on top of a red marker. It doesn't have to be picture-perfect to be much more functional and that was my overall goal.