The Maker of Some of Our Favorite Instant-Read Cooking Thermometers Is Having a Huge Early Labor Day Sale
We independently select these products—if you buy from one of our links, we may earn a commission. All prices were accurate at the time of publishing.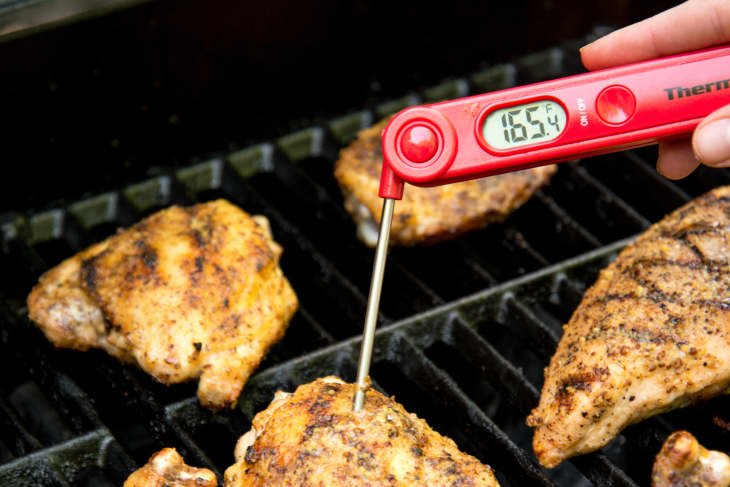 When it comes to making juicy, tender meat and fish, investing in a kitchen thermometer will save you from undercooked and overcooked failed attempts. Although our favorite meat thermometer costs upwards of $100 (it's worth every penny!), beginner home cooks or anyone cooking on a budget can also check out another favorite brand of ours that will certainly get the job done. ThermoPro makes a huge range of gadgets that will accurately measure the temperature of your food, whether you're roasting a turkey in the oven, searing salmon, or grilling steaks.
Follow Topics for more like this
Follow for more stories like this
As a special bonus for anyone looking to stock their kitchens with one of these meat thermometers, you'll be happy to know that there's a huge ThermoPro Labor Day sale happening right now! Happening today, Aug. 26 through Aug. 30, take up to 40 percent off a wide range of products by using the codes BLOWOUT40, BLOWOUT30, or BLOWOUT20 at checkout, depending on what you're buying. Ahead, we've picked out three of our favorite picks, all of which are 40 percent off, so you can get the biggest deal possible.
To start, the TP19H has a 4.3-inch stainless steel probe that provides an exact temperature (from –58 to 572 degrees Fahrenheit) reading within seconds, which displays on the rotating backlit display screen. It's also waterproof and has advanced motion sensing technology so it'll turn itself off and on without having to press any buttons. It even has a "lock" button that'll allow you to take the temperature of your food, wait a few seconds for it to get an accurate reading, and then lock that reading so you can look at it away from a hot grill or stove. We also like that this model folds up for easy storage — either hang it on a hook by its hanging hole or stick it to your fridge with its magnetized interior.
You can also get this long-range meat thermometer for a steal if you smoke meats or you want to carefully monitor something while it cooks. It's great for barbecuing, too, if you're multitasking or entertaining — just take the other half of the thermometer with you to keep an eye on the temperature. You can also set the temperature you want your food to reach, and the thermometer will beep when it hits that number, so it doesn't overcook.
Finally, for a simpler model, the TP15H is a great pick for under $10. It has a long probe, perfect for making a Thanksgiving turkey or staying far from the flame if you're working over a hot grill. Like the rest of the ThermoPro thermometers, it can measure the internal temperature in just four seconds with up to .9 degrees of accuracy.
Even though grilling season is coming to an end, you can still make sure your food is cooked to perfection with one of these thermometers — whether it's your holiday roast or a simple weeknight dinner.