The Ingenious, Time-Saving Vacuum AT Readers Bought In Droves This Year
We
independently
select these products—if you buy from one of our links, we may earn a commission. All prices were accurate at the time of publishing.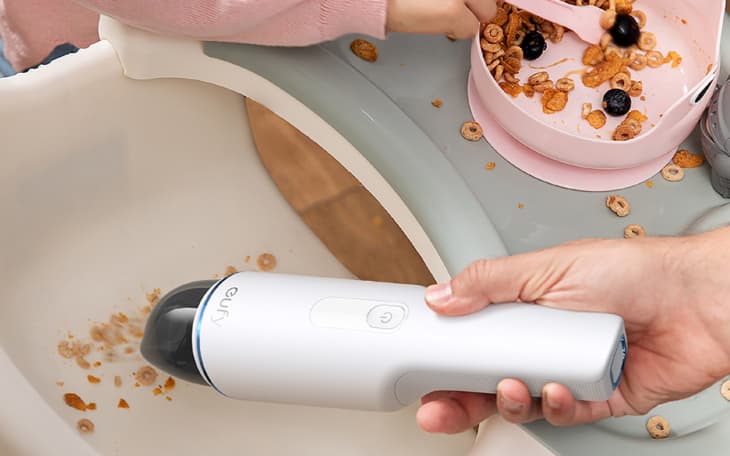 With the new year mere days away, we're all in a reflective mood here at Apartment Therapy. Earlier this week, this led me down the archive, taking a look back at all the home finds I've written about in 2022, and dear reader, it's hard not to marvel at all that was discovered. From the stick vacuum of my dreams to the drying rack that transformed the way I do laundry in my tiny studio, I've come across some pretty awesome finds over the last year. But the one that really stole the show? That was the eufy by Anker HomeVac H11 Handheld Vacuum. With this pick, I finally found the perfect hand vac — and it seems you all did, too. In fact, this hand vac was one of our most popular products of the year with hundreds of you picking one up for yourselves. So what is it about this vacuum that had me and scores of readers in a tizzy?
Chic, cordless, and compact, the HomeVac H11 is the stuff of dreams. For the most part, hand vacuums can be rather large and unsightly, but this one puts a stylish spin on the popular cleaning tool with a sleek design that's roughly the size of an average wine bottle. But don't let the size (or price!) fool you — this vacuum packs a punch. With a powerful 5,500Pa suction power, a washable high-efficiency filter, and an included multi-use crevice tool to reach every nook and cranny, this dustbuster might just become the star of your cleaning kit. The best part? It packs all of this power into a device that weighs just 1.2 lbs.
Now, when I first unboxed the device, I was truly taken aback by how lightweight and stylish it was with its matte finish and slim design (yes, I was definitely immediately sold on its look, but its power was still up for debate.) Upon first use, however, I knew this vacuum was special, picking up everything from dust to crumbs with extreme ease. But where I found it really shined was on my couch. With the included crevice tool, I was able to get deep between the cushions and the lining of my sofa, removing a lot of dust and debris that had been there for I don't want to know how long. Something I also loved was that the crevice tool can be transformed into a brush tool, one that I found particularly effective on throw pillows, blankets, and even the keyboard on my desk. By the time I was done using it, my place was spotless, and I had found a new go-to.
If you're an Amazon Prime member, you can snag the eufy HomeVac H11 on sale for nearly $10 less. The vac three stylish colors: black, white, and mint. So if you're in need of a chic, powerful hand vac that won't take a lot of space (and are interested to see what all the hype is about), give this one a try. You'll find it sucks — in the best way.