Here's What Happened When I Tried Backdrop's New Wood Paint on My Dining Table Set
We independently select these products—if you buy from one of our links, we may earn a commission. All prices were accurate at the time of publishing.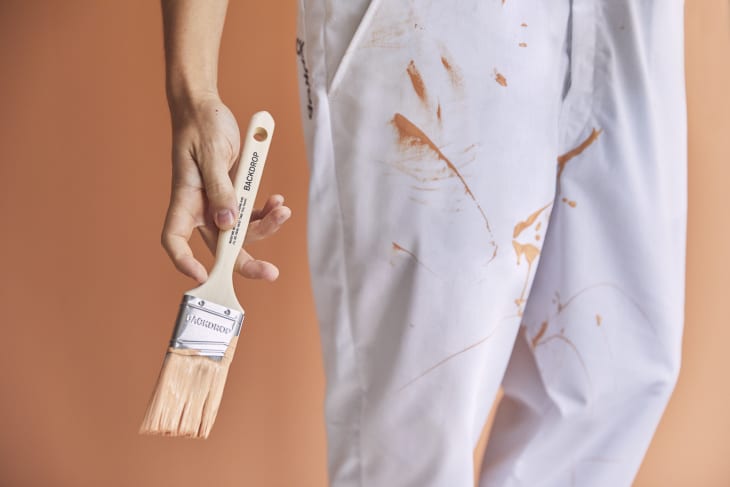 There's not a surface in my home that, whether on purpose or by accident, I haven't gotten paint on at some point. Naturally, about nine months ago, I gave my wood dining room table and bench set a makeover with some $8 paint sample cans from my local hardware store. I chose three shades of Barbie-worthy peach and painted every edge to match the shadows of my tiny dining room-slash-kitchen. It could be (definitely is) my pride talking, but it was cool. Just don't ask my housemate her opinion. After a while, though — call it a week — I outgrew the thrill of my DIY dollhouse dining set and we began shopping for a table that better suited our small space but still worked with our budget. Over time, we realized we actually like the set, but it was the color that had to change. Project time.
Follow Topics for more like this
Follow for more stories like this
Kitchen and bathroom cabinets as well as baseboards, doors, and other foundational elements of our homes often are so used they turn hidden in plain sight. Giving these wood details and surfaces the refresh of a coat of paint, if specially formulated and the job well executed, can breathe new life into a room and even change the way you feel when you're in it — even more so than a new piece of furniture, a pretty dish set, or lighting. It has a way of making something appear cleaner than you could have ever made it look before, especially if the surface is well used and a little worn.
I opted for Ghost Ranch, a light, rich terra cotta brown, because if the Barbie table thing didn't tip you off, I'll let you know subtle isn't my thing. It happens to be my housemate's, however, and this felt like this warm, neutral tone a happy medium. Backdrop sent me their Cabinet and Door primer, too, which I got right into applying after just cleaning the table. Yes, I should have done more prep, but this is the kind of DIY-er I am, so I considered being true to myself during this project the ultimate test for Backdrop.
All it took was a single coat and the entire table was stark white — almost as if I'd chosen to paint it white and taken days to do so. Per the instructions and my supervising housemate, however, I continued with a second coat a few hours later. Like the color paint, it came in an aluminum canister with an easy-pour handle and a rather attractive aesthetic. In going in with the Ghost Ranch, I got excited and poured it directly onto the table, brushing and swirling it around. Again, the worst technique possible, but after half an hour of evening out the first layer, I was highly impressed… and soothed. It was then I realized that I hadn't smelled fumes since I began the process.
Up next to this project's first edition where I wore two layered face masks, had all the windows open, and a fan and an air purifier going and still got a headache, I knew I was a convert already. The color payoff alone was already worth it, but the process being smooth and headache-free turned me loyal to Backdrop in a matter of hours — which, by the way, was all it took. Three hours between two coats and not a single touch-up was necessary.
I now have a gorgeous semi-gloss terra cotta table that looks both wooden and ceramic depending on the kitchen's ever-changing decor scheme. Cleaning it is a breeze and I've used everything from essential oils to Clorox wipes — more no-nos from the non-professional.
The paint has stood up to it all — daily use, chemical cleaners, and primarily my impatient paint job. Any DIY product that works for me, making my work look professional, is a win. And while writing this article, I've adding six more colors to my shopping cart.
Buy: Backdrop Interior Cabinet and Door Paint, backdrophome.com, starting from $45