This Customizable Sofa-in-a-Box Has a Special Armrest That Converts Into a Desk
We independently select these products—if you buy from one of our links, we may earn a commission. All prices were accurate at the time of publishing.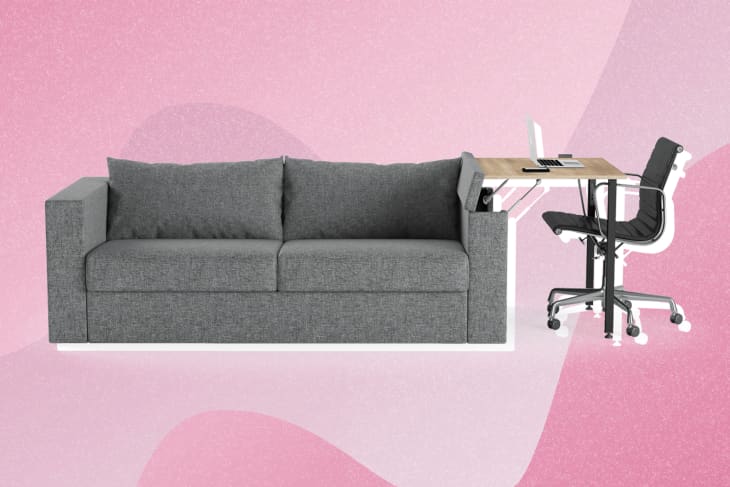 My very first apartment in New York City was a third-floor walkup with a TINY stairwell. So tiny, in fact, that my roommate's sofa wouldn't fit up the stairs, and he had to hire a pro who literally cut it into pieces, brought them up the stairs, and meticulously reassembled the whole thing. Don't ask me how they accomplished this incredible feat (I wasn't there to witness the sofa surgery itself), but the fact that a service like this even existed was pretty mind-boggling to me at the time.
Follow Topics for more like this
Follow for more stories like this
If only we'd had The Dynamic Sofa from Elephant in a Box back then. It's a super-smart couch that's delivered in just one small box and is easy to assemble, disassemble, and customize. And besides being functional and portable, it's also ideal for small spaces (and tiny stairwells).
But here's where it gets better: The modular Dynamic Sofa is also customizable, and we're especially in love with the extremely clever armrest option, which easily converts into a desk! If you're thinking that this all sounds like Transformers for adults who enjoy multipurpose furniture, well, you're not wrong. This special armest contains a hidden desk that folds out to convert your Dynamic Sofa into a working sofa. It's ideal for anyone who's been WFC (working from the couch) and in serious need of a new setup. The desk's surface measures 25.8″ x 37.8″, which is plenty of room for a laptop, and you can add an armrest/desk to both ends of the sofa to create a space-saving workstation for two.
Besides being especially great for small spaces and anyone who moves often, The Dynamic Sofa is also incredibly strong. It's designed with innovative "honeycomb" technology that makes it lightweight, durable, and super sturdy — this sofa can support up 4,000 pounds! Plus, no tools are required for assembly and disassembly. If you think this sounds too good to be true, take a look at this video, which explains just how this magical, small-space-friendly sofa came to be.
Right now, Elephant in a Box is offering a 10 percent discount when you buy The Dynamic Sofa and the Armrest with Desk together using code WORKINGSOFA. For a multipurpose piece that also looks great, it's a really, really good deal. The sofa itself is available in easy-care polyester upholstery and can be customized with add-ons like ottomans and vegan leather covers.