Pet Owners Are Loving Doll Beds, and These Instagrams are Proof That It's Too Cute
We independently select these products—if you buy from one of our links, we may earn a commission. All prices were accurate at the time of publishing.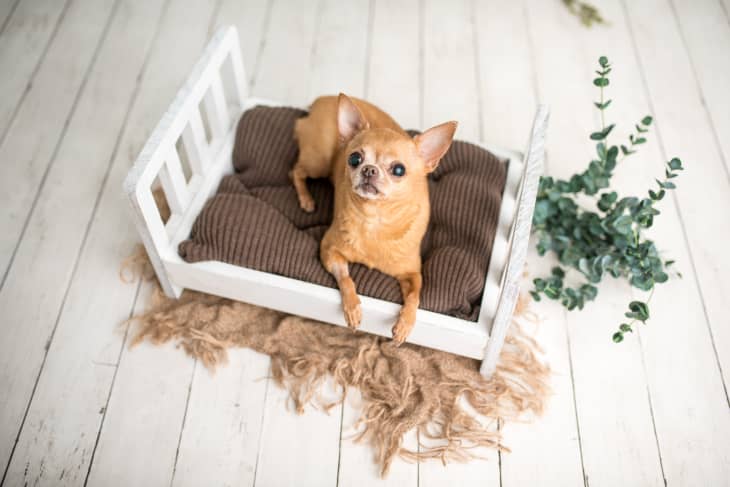 I grew up with American Girl dolls and one year, I was gifted an off-brand bunk bed for my dearest Samantha for Hanukkah. Samantha never used it, but my family dog Monet, a 13-pound Bichon Frise, did. She never stayed put in the makeshift dog bed—even when I put a treat on it for her—but little did I know I was 20 years ahead of a trend.
The IKEA DUKTIG doll bed, which is only $14.99, is all the rage right now with pet owners. These mini beds are the perfect size for small animals at just about 20-inches long, 14-inches wide, and 11 inches high. Plus, it's made of basic pine wood that you could paint if your heart desires. An added bonus is the linen set that comes with it—but of course, feel free to adorn with your pet's favorite pillows and blankets.
Follow Topics for more like this
Follow for more stories like this
Here are some adorable posts on Instagram for your own inspiration, or simply to enjoy some cuteness:
This tiny fur baby is all tucked in and seems very happy to be there. Notice how this one's owner change the linens—perhaps to match the personality of #gingercat.
Rescue pugs get real snuggly in this double bed that their owner finagled together by screwing two DUKTIG's together for extra closeness. Add a pillow and blanket then bam, the ultimate IKEA hack and the ultimate cuteness.
Pablo the Norwich Terrier looks happy as can be breaking in the DUKTIG here. It may seem a little bare in this initial photo, but story highlights prove there was an upgrade later on. 
The DUKTIG is not only for cats and dogs. These bunnies have no problem hopping up for breakfast in bed to enjoy as much basil as possible. It really doesn't seem like it could get cuter than this.
Lazy pups love getting tucked in all cozy with pillows and blankets like this teacup yorkie terrier named Minnie.