This is Walmart's Top-Selling Upright Vacuum—And It's Perfect for Pet Owners
We
independently
select these products—if you buy from one of our links, we may earn a commission. All prices were accurate at the time of publishing.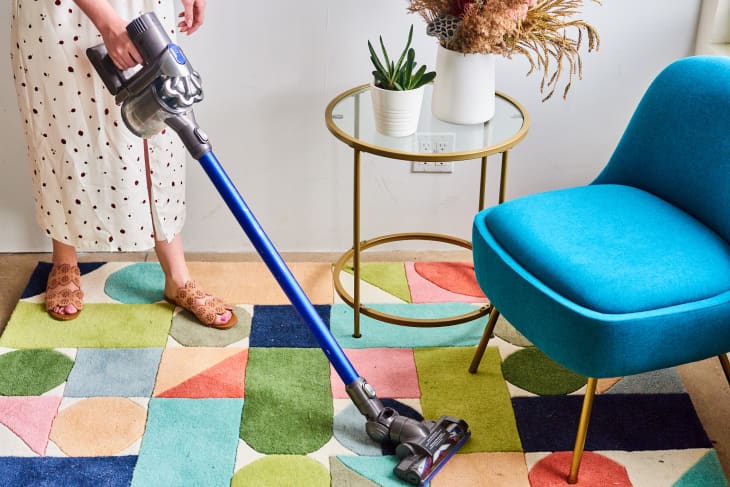 Ask any pet owner and they'll tell you: Adding a cat or a dog to your home can be one of the best, most rewarding decisions of your life. Unfortunately, our four-footed friends come with fur—lots and lots of fur. Even the tiniest house cat can shed fur like he's a massive lion, as I discovered when my cat claimed my luggage, stored way in the back of my closet, as a secret nap spot. (How did he even get to it? Oh yeah, cats are basically made of water.)  When I discovered his nest, it looked like a polar bear had been hibernating all winter back there, instead of a small cat, snoozing for a few weeks.
Now imagine that all over your house. Pets can wreck hairy havoc on any home, which is why it's important to invest in a powerful vacuum. Although finding the right match is, to put it lightly, daunting, the task can be made easier by paying attention to reviews and tried-and-true bestsellers—especially when it comes to navigating all the different models sold by your favorite brands. Dyson, for example, is an obvious vacuum choice, but which of its myriad options is best?
According to Walmart, the answer is the Dyson V7 Motorhead Origin. It might not be the newest or the fanciest Dyson, but it's Walmart's top-selling upright vacuum model. With powerful suction, a cord-free design, and a $249 price tag, it's not just dependable—it's also a dream come true for pet parents everywhere.
Says one satisfied customer: "I have…a golden retriever, and two cats that shed like crazy. My old vacuums couldn't even begin to help me get some of the hair out of my apartment. This vacuum, however, was able to get into all the nooks and crannies and was able to remove so much hair on the first use."
It's also lightweight, and easily switches from an upright to a handheld vacuum, making it "easy to maneuver" as you tackle Fido's fur, dust, and other household messes. As one extremely happy customer wrote, "I'm looking for any reason to use it!!! Cleaning the cracks of the couch, cleaning out my car, vacuuming my ceiling fans!"
So what makes it so great? The magic is in the brush bar, which has a powerful motor and is capable of digging deep into your rug to pull up embedded hair, dirt, and dander. You can even use it on both carpet and hardwood—and the low profile head and handheld feature mean you can use it on hard-to-reach places.
Since it's cord-free, though, you do have to charge it. While some customers do caution that the battery dies quickly if you're using the max suction setting (Dyson says the battery lasts up to 30 minutes on a full charge), the go-anywhere ease of a battery-powered vacuum allows for prompt clean-up of messes "instead of leaving it for later because we don't want to drag out the corded [vacuum]." 
If you have a smaller apartment or house, though, the battery life might suffice. "Once the battery was fully charged, I was able to vacuum my entire apartment plus my vehicle's seats before it went out of battery," said one reviewer, while another adds that "the battery won't last…depending on how large of a house you have."
So if you're looking to clean up after your beloved pet—or just clean up, period—look no further than the Dyson V7. It might not have all the bells and whistles of the latest models, but it is what one customer calls a "nice little Dyson."