Everything You Need to Make Your Furniture Last Forever, According to the Pros
We independently select these products—if you buy from one of our links, we may earn a commission. All prices were accurate at the time of publishing.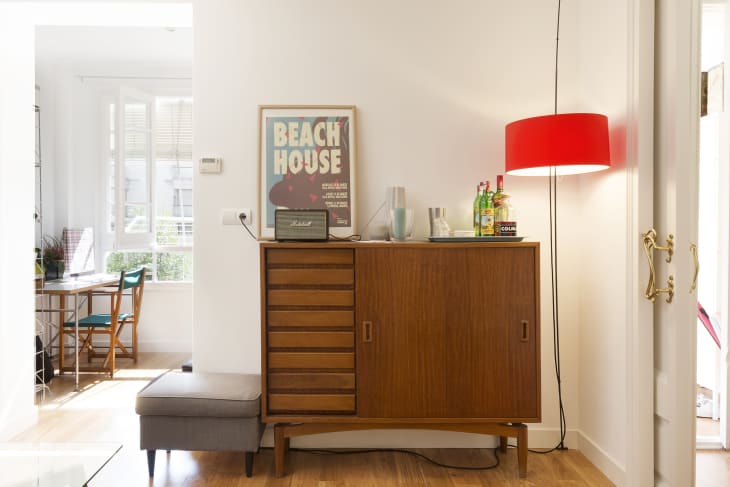 When you finally find that perfect piece of furniture that you've been hunting down for years, you might find yourself facing a bit of a conundrum. On the one hand, you're head over heels in love, so you probably want to use it every day. But on the other hand, you ideally want to make it last forever, so there's a temptation to shroud it in plastic and take up a vigilant watch against pets, little ones, and even well-meaning visitors.
But that sort of vigilance can become a bit… shall we say, stressful. Thankfully, there's another way to make your furniture last while also letting it get some use. We spoke to a group of pro refurbishers and seasoned DIYers who let us in on all their best tips and tricks for making furniture last forever. Whether you're looking to erase a ding in a wooden dresser, re-upholster a favorite chair, refinish a rusty metal item, or banish a pesky wobble, these experts have the skills and tools to breathe new life into even your best-loved items. So here it is: everything you need to make your furniture last a really long time.
Follow Topics for more like this
Follow for more stories like this
What you need for wood furniture
For Jodi Bond of @houseonasugarhill, a shellac-based primer is worth its weight in gold. "I always make sure to use a shellac-based primer when painting over raw wood to seal in any sap that might still be in the wood," she says. "I learned this the hard way, and built a beautiful barn door out of pine wood that I painted it white. But I didn't seal it properly, so over time, the sap started to seep through the wood and into my paint, creating yellow stains all over the beautiful painted door. Fortunately, I was able to prime right on top of the paint, and start over, so the door was saved." Bond shares that her go-to primer for jobs like this one is the Zinsser B-I-N Ultimate Stain Blocker. 
Thriftys Retro has made a name for itself as an online boutique offering quirky, upcycled furniture and homewares, and its owner Kelly Sharp always makes sure to keep some Gorilla Wood Glue on hand. "It's brilliant for repairing wooden furniture and broken handles or joints—it dries clear, so if you make a mistake, it can scrape off really easily once it's dried," she says. "Plus, a little bit of wood glue mixed with sawdust makes a fantastic wood filler, which can be used to mend holes and cracks in chairs." She especially relies on the glue for worn wooden furniture that's gained a bit of a wobble from widening drill holes. Just fill the hole with your DIY wood glue mixture and wait. "Once dry, the hole can be re-drilled so that the screw fits perfectly with no wobble," she says.
Any time a piece of wood in Steven DeGennaro's workshop at Dashner Design & Restoration seems destined for the dumpster, he has one last-ditch option to try. "Oxalic acid is great for removing black water stains from wood," he says, noting that it's sold in powder form as wood bleach. "Just mix it with some warm water, apply it to the stain and let it dry," he says. DeGennaro notes that particularly stubborn stains sometimes require more than one application, and encourages eager DIYers to be sure to clean and neutralize any oxalic acid residue remaining on the wood before returning the piece to your home.
Another tool that DeGennaro can't do without for his vintage furniture restoration business? A soldering iron, which he says is handy for steaming out small dents in wood. "First, apply a small amount of water to the dent and let the wood absorb the water," he says. "Next, lay a damp rag over the dent. Touch the hot iron to the damp rag directly over the dent, but don't hold the iron there for too long or you could scorch the wood. The steam will cause the wood fibers to swell back to their original shape." If you don't have a soldering iron, don't worry—DeGennaro says that a regular clothes iron will work as well; he just prefers the soldering iron as it allows him to be more precise.
When it comes to stripping the finish off a piece of furniture, DeGennaro advises everyone not to overthink it. Before you shell out the cash for a chemical stripper, try using a regular old scraper. "Scraping is less messy than chemical stripping, makes no odor and can be cheaper than buying bottles of stripper," he says. "I use an assortment of card scrapers and paint scrapers when removing finish from furniture—they work especially well on old lacquer and shellac finishes." Just make sure you reach for a scraper that's nice and sharp, he says, and you'll be surprised at how effective it can be.
Drew Scott of @lonefoxhome is always embarking on some eye-catching new project, and he has his own technique for stripping down a wooden piece. "Sandpaper or an electric sander will be your best friend when working with wood," he says. "Whether you're sanding down a shiny finish, old paint, or a dark stain, you can prep your furniture piece for new life with fresh paint or finish."
What you need for upholstered furniture
When asked about her favorite products for at-home upholstering, Sharp didn't hesitate: "My go-to tool for repairing upholstered furniture is a trusty upholstery staple gun." She notes that handheld versions are simple to use, and often cost around $25. "They make it easy to staple loose fabric back into place and to change the top fabric of a chair, stool or ottoman storage box."
Also in Sharp's upholstering arsenal? The immortal hot glue gun, which she's found more uses for than you can shake a stick at. "A hot glue gun is my repair kit essential item," she says. "It can be used to repair rips in upholstery fabric, add some funky patches, update the look of a chair by adding frills or tassels, and disguise rips or sagging with piping or patches — all applied with a hot glue gun."
Like Sharp, Scott is also a vocal fan of the staple gun, but added another item that he uses alongside it. "I would have to say pliers and a staple gun are my top tools I grab from my bag when DIY-ing furniture," he advises. And for anyone feeling intimidated right about now, he is quick to add: "Now when it comes to upholstery, I am no pro! However, you don't need to be one. Grab a staple gun and stretch your fabric to make it fit, add some staples and repeat. And reach for the pliers anytime you need to remove old staples or stretch fabric into tight spots."
Also relying on a one-two punch of upholstering magic is Brooke Christen, who shares images of her lovely home on @nestingwithgrace. "One way to make your sofa look and feel brand new again is by combining an upholstery cleaner with a fabric shaver." (Christen swears by the BISSELL Little Green Pro Portable Carpet Cleaner for the former.) "Most people clean their upholstery or have it cleaned, but combining a nice clean with a lint shaver is an absolute game changer," she says.
And speaking of lint shavers, Christen is a huge fan of how the powerful little devices are able to make such an impact. "Over time, our upholstered fabrics will begin to pill and show wear. The fabric shaver removes those pesky little fabric balls and restores a brand new finish! It's amazing how much more life you can get out of your sofas and chairs with a few little tricks up your sleeve."
What you need for metal furniture
When it comes to metal items, Sharp acknowledges that repairs are typically more difficult. But that doesn't mean she shies away from those projects at Thriftys Retro. "Metal items are more difficult to repair, yes, but you can get UniBond Metal Repair Glue, which is a very strong adhesive," she says. For best results, she recommends rubbing the breakage surface with sandpaper before applying the glue, to give it a little more to stick to. 
Sharp also recommends that you hold the item in place while it's drying, which is where clamps come in. "Clamps are really useful for holding any repair in place while it dries," she says. "They can be used to fix drawers, wobbly legs, broken rails, and snapped handles." Or if you don't have a clamp on hand, substitute a strap or belt, which can also hold the repaired item securely in place until it's had time to dry.
Metal is a bit tricky not only to repair, but also to color match, so Scott tends to fall back on a classic. "Typically I always just resort to spraying metal to a matte black—Matte Farmhouse Black by Rustoleum has an amazing finish," he says. But for projects where a matte black isn't a fit, stunning as it is? "Matching a steel or a brass tone comes with its own challenges, so using a product like AMACO Rub 'n Buff can also make the imperfections look intentional."