The $14 Find That Will Keep Your Yoga Mat Looking and Smelling Brand New
We independently select these products—if you buy from one of our links, we may earn a commission. All prices were accurate at the time of publishing.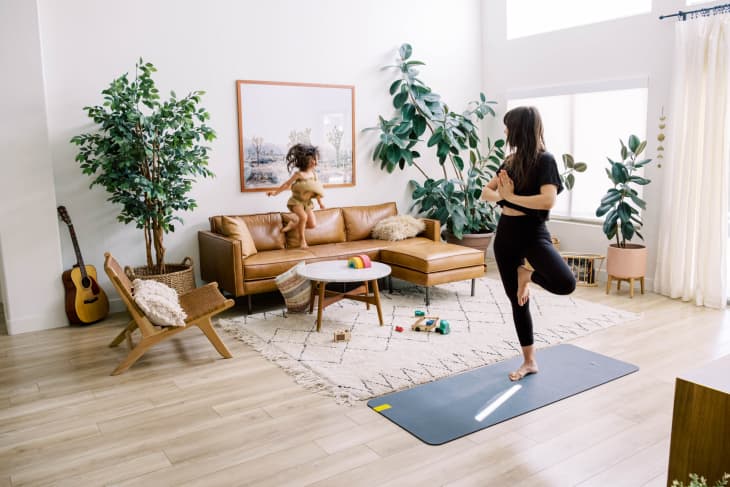 Throughout high school, most of my exercise consisted of running. When I got to college, though, I found I much preferred pilates-style workouts done in the privacy of my own bedroom. When I started this new routine, however, I realized that the old bath towel I was using simply wasn't cut out to be used as a base atop my carpet, so I promptly invested in a yoga mat. As you can imagine, my mat was much more effective for all sorts of home workouts! The only issue was cleaning it. Whereas the towel I'd previously used could simply be tossed in the washer, the same obviously wasn't true of my new piece of exercise gear. I was pretty much at a loss over how exactly I was supposed to clean a yoga mat, so I settled for spraying it with household surface cleaner and wiping that off with disinfectant wipes.
Follow Topics for more like this
Follow for more stories like this
Although this method likely killed most of the germs on the mat's surface, I'm sure the abrasive ingredients in my cleaners of choice weren't too great for my skin. I didn't end up taking my yoga mat with me when I moved to New York (and have yet to replace it), but I still wish I'd known about Asutra's Yoga Mat Detox spray, which is available on Amazon and on Grove Co., one of our favorite destinations for sustainability-focused cleaning supplies.
The thought of this surface cleaner being a detox for your yoga mat is kind of funny but not at all inaccurate. Comprised of castile soap and organic tea tree essential oil, it manages to effectively break down dirt and grime on the PVC material without subsequently irritating your skin. The spray is also infused with lavender essential oil, which gives it a soothing, pleasant smell, though you can also choose among other scents such as calming citrus, energizing peppermint, and mindful lemongrass if you buy it from Amazon. "It really cleans the unseen gunk on the mat," wrote one of the nearly 4,000 five-star raters. "The scent is a great addition that lingers by the next exercise. It is not overpowering and is not abrasive to the senses."
Using the spray is also delightfully easy. You can either spray it onto a damp cloth (like the microfiber rag that the Amazon version comes with) or directly onto your mat. Then, just wipe the mat down and let it air dry before rolling it up. The next time you stretch out into a child's pose or assume the plank position, you'll feel good knowing the area beneath you is completely free of bacteria and funky smells.