This Game-Changing $13 Amazon Cabinet Attachment Instantly Corrals Your Excess Plastic Bags
We
independently
select these products—if you buy from one of our links, we may earn a commission. All prices were accurate at the time of publishing.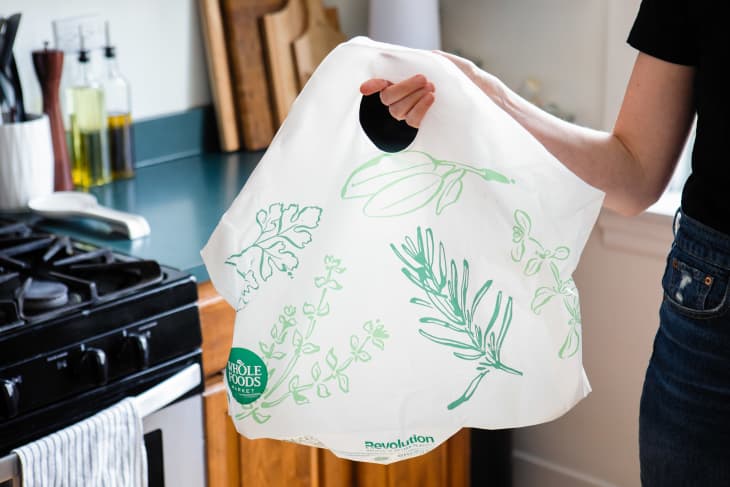 There are certain, universal things present inside almost every home — and I'm not talking about items like dishwashers or first aid kits. For example, it's practically a human instinct to dedicate one drawer in your kitchen to plastic bag storage. Just like you might be hesitant to throw out sauce packets and plastic takeout utensils, you never know when you might need a good ol' grocery bag to line your bathroom trash can or use in a cleanup emergency. But, even though they're great to have on hand, the bags eventually accumulate and end up occupying an entire drawer or cabinet. Space that could've been used to hold cookware, cleaning supplies, or food storage containers instead becomes cluttered by what are essentially worthless items.
So what are you to do? Part with your precious bag-of-bags? Not only is that wasteful, but it's also unnecessary. You simply need to invest in one of these handy adhesive bag holders, which are available on Amazon for just $13.
This open-top organizer once again proves that a lightweight piece of plastic can make a huge difference in your everyday life. Basically, you adhere the holder to the inside of a kitchen cabinet and stuff your bags inside. You can screw it in, but a more renter-friendly option is to use the adhesive tape strips it comes with and simply stick it onto your cabinet door. This will no doubt work, because it's not as if the contents of the holder are going to be heavy. Once the product is up and in use, you can effortlessly grab bags either through its top opening or the round cut-out near the bottom. Best of all, your cabinet stays free of clutter, allowing you to use it for other purposes.
The bag holder comes in white for just over $13, but you can also get it in light or dark gray for $10. More than 6,000 five-star Amazon raters agree that it's totally worth the money. "Exactly what I needed!" one reviewer wrote. "Wasn't sure how it would hold up with the design, but it operates perfectly. I didn't like how other models looked. This one is more discrete and functional." Of course, you could place this bag holder in any room of the house, be it the bathroom, laundry room, or garage. From then on, rest assured that it'll rid your home of clutter and stay completely out of the way while doing so.