This $40 All-in-One Pan Might be the Last One You Ever Need (It's on Sale!)
Apartment Therapy received compensation for this post, which was written and edited independently by our editorial team.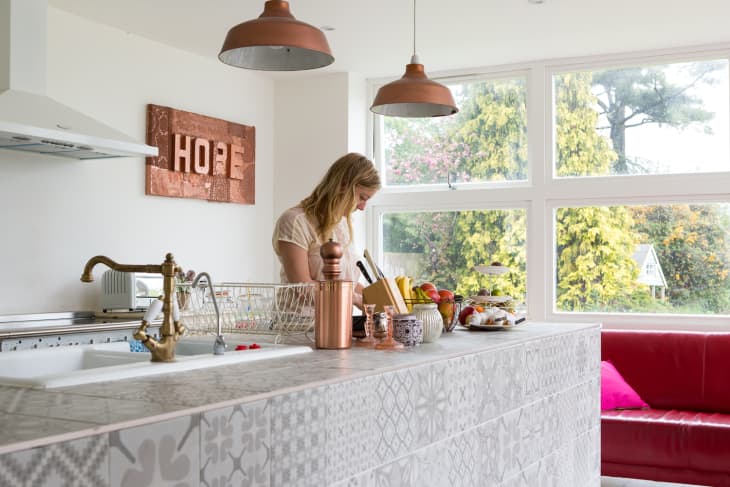 If you struggle with kitchen cabinets full of too many pots and pans, you are definitely not alone. Whether they're loaded up with big, bulky cookware that can only be used for one task or you've somehow accumulated a series of similar pans that all do the same exact thing, it's hard to know where to even begin the downsizing process. Luckily, we've cracked the code on this age-old cookware dilemma and found ourselves a solution — and it doesn't break the bank. Say hello to the Cooking Light My Favorite Pan from QVC, the under-$50 pan (which is on sale for under $40 right now!) that's bound to revolutionize the way you store and use cookware in your kitchen.
Follow Topics for more like this
Follow for more stories like this
Cast in ultra-lightweight, sturdy aluminum, the pan is truly an all-in-one cookware wonder. Since it has an anti-warp base, you can count on evenly distributed heat throughout the pan's nonstick surface. Use this baby to sauté, fry, braise, sear, brown, and caramelize (there's even a steamer basket included if you want to whip up some dumplings or a side of veggies). The comfort-grip handle never gets hot, so you can effortlessly lift and hold the light-as-a-feather pan while you flip and toss an omelet or transfer dinner from the stove to the table.
With this pan's highly effective nonstick coating, even the cheesiest and stickiest of dishes will slide out perfectly. Translation: Cleaning it will be just as easy as cooking with it. However, if you ever just want to throw it in the dishwasher, no worries! The Favorite Pan and its lid are both dishwasher safe. Oh, and did we mention just how good this pan will look in your kitchen? No matter which of the five elegant colorways you choose, it'll add a fun accent to any decor style. Yup, heads will definitely turn when you present the family's favorite recipe in this beauty.
The 4.25-qt. Cooking Light My Favorite Pan is big enough to tackle a dish that can feed everyone, even when the in-laws are visiting or when you're having a dinner party with friends. Don't worry, though — despite its large capacity, unlike your current arsenal of cookware it won't take up too much space when it's tucked in a cabinet awaiting its next outing. But with a pan this versatile (and at this almost unheard-of pricepoint!) we doubt it'll ever be stored away for too long between uses.

Buy: Cooking Light My Favorite Pan 4.25-Qt. , $39.98 (normally $44)