Hurry — the Cast-Iron Version of the Insta-Famous Always Pan Is on Major Sale Right Now
We independently select these products—if you buy from one of our links, we may earn a commission. All prices were accurate at the time of publishing.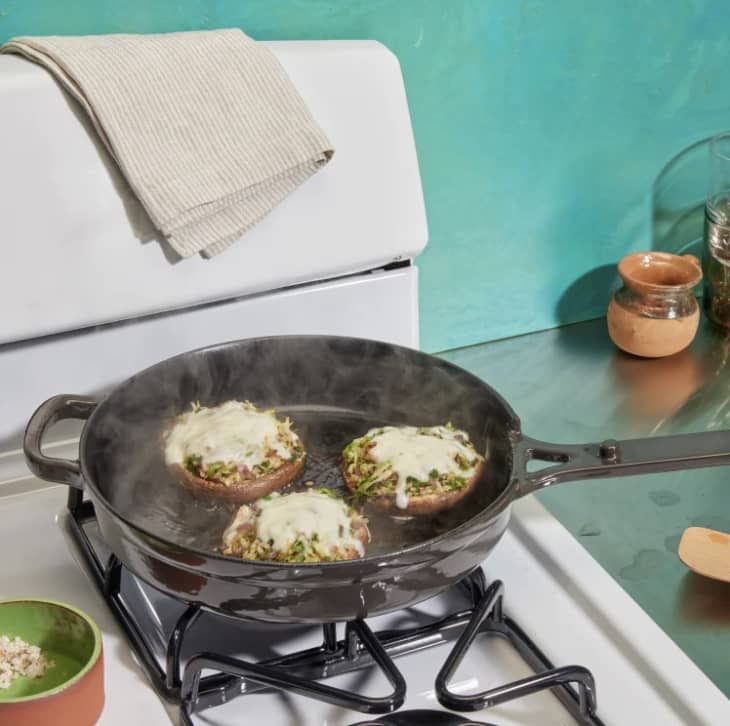 If I were to pick one item that defined recent cookware trends, I would choose the Always Pan from Our Place. Unlike the stainless-steel fry pans of yore that were touted by restaurant chefs and TV personalities, the Always Pan pan rose to prominence through word of mouth on Instagram and TikTok because it's extremely versatile, easy to use (and clean), and cool-looking. It also did away with old, potentially toxic nonstick materials in favor of a more modern ceramic coating, and it came in several stylish colors — no wonder it's constantly sold out!
Follow Topics for more like this
Follow for more stories like this
Our Place followed up their smash hit with a cast-iron version of their Always Pan, and for a limited time, they're giving it to you at 25 percent off. So, whether you love your original ceramic Always Pan and want to try it out in cast iron — or you've just been waiting for an opportunity to upgrade or replace your current cast-iron situation — now is the perfect time to shop.
Compared to the ceramic Always Pan, this cast-iron version has the same dimensions — a 10-inch diameter, 2.7-inch depth, and 5.5-inch height with the lid on — with a 2.6-quart capacity. There's still a built-in resting spot on the handle for the included wooden spatula (which is kind of a game-changing design, if you ask me), and the lid is made of glass so you can easily keep an eye on your food as it cooks.
On the inside, the cast iron is coated with an enamel that helps prevent sticking and makes the pan easier to clean. While this arrives fully pre-seasoned, meaning you can use it right out of the box, you still have to take care of it like you would with any enameled cast-iron pan. That means no abrasive cleaning products or metal scouring pads and waiting until it's fully cool before hand washing it. But, with those few considerations in mind, you'll enjoy years of use from this investment-worthy kitchen essential: sear chicken, steak, and pork; braise seafood and vegetable stews; and develop deliciously crispy texture on rice dishes.
One of the many details I appreciate about this pan is that it comes with two silicone protectors, a long one that goes over the main handle and another wide one that fits around the secondary handle on the opposite side. With these two pieces, you'll never have to awkwardly — and dangerously — try to wrap dish towels around the hot pan when you need to move it. That's especially important if you plan on cooking with this inside your oven, which you totally should (it can withstand up to 500 degrees Fahrenheit).
When our former commerce writer Erin Cavoto tested this pan last year, she praised it for its ability to create fantastic flavor in one of her favorite chicken dishes. "I was left with crispy-on-the-outside, tender-on-the-inside chicken that also happened to be extremely easy to make," she wrote. "And, I've had much success with deglazing, resulting in some very delicious pan sauces."
Add this hardworking cast-iron skillet to your stovetop's lineup and enjoy a pan-tastic piece of cookware from one of our favorite brands. Act now for 25 percent off!