We Just Found One of the Lowest Prices on Le Creuset's Grill Pan — Score It Before It's Gone!
Apartment Therapy received compensation for this post, which was written and edited independently by our editorial team.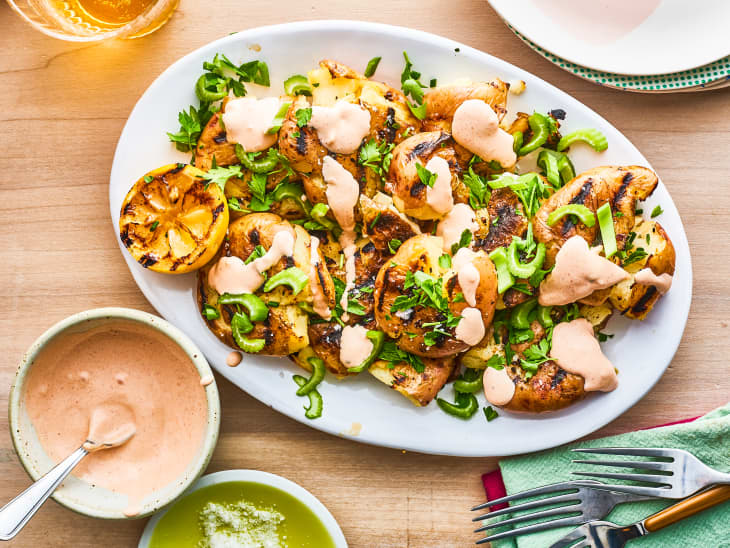 Ah, fall. You might remember it as the time when temps were just starting to cool down, and everyone was excited for stew and soup season, not to mention all the other hearty cold-weather eats. But now, you've survived a seemingly endless amount of holiday cooking and have reached a new point. Winter might not be over, but don't you wish it were? For those who are itching to fire up the grill and dine al fresco once again, the good news is that you don't have to wait until spring to do so.
Follow Topics for more like this
Follow for more stories like this
Heck, you don't even need a patio, backyard, or barbecue grill. We know of something even better: Le Creuset's cast iron grill pan. This highly versatile piece of cookware brings the outdoors in, letting you prepare all your favorite summertime eats on the stove. And right now, you can buy it for less than $85 at QVC. As far as Le Creuset prices go, that's practically nothing. On the site, you can also find similar deals on other brand must-haves, like the editor-loved braiser. But you'll want to act fast — the pan is already low inventory.
Add a smokey flavor to meat, veggies, and even pizza with this easy-to-use pan. Its enameled cast iron interior has high ridges that create sear marks and drain excess liquid (two side spouts also help with this), leaving you with meals that aren't only tasty, but also fit for a beautiful presentation. You'll also find that the pan's material conducts and distributes heat masterfully so you don't end up with overly hot or cold spots that take the pleasure out of eating. QVC customers also love how easy this piece is to clean, among other notable features. "It's perfect for steaks, pork chops, or anything you can think of to grill," one reviewer shared. "You don't need to use high heat to get beautiful results. And (it) goes into the oven if needed."
Others wrote of owning theirs for as many as eight years, relaying that the pan still looks brand-new even after daily use. This is no surprise — the chip-resistant cast iron is practically impossible to mar. Suffice to say, the pan's minty exterior will look nothing short of marvelous atop your stove. If you're tempted to buy your own, we don't blame you. The only problem is, this amazing deal won't last. The pan is already low in stock, so you don't have a lot of time. There are no promises it'll still be here tomorrow, but we do promise it'll quickly become a prized part of your cookware collection.